So excited to be sharing this amazing upcoming event with you — Cincinnati Ballet presents Alice (In Wonderland) at the Aronoff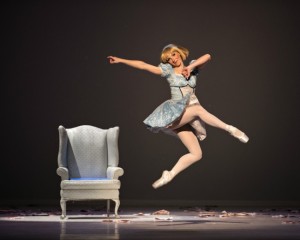 Center!  I don't know about you, but I really enjoy watching Cincinnati Ballet and I'm ever in awe of the amazing talent displayed whenever they perform.
I love any chance to get my kids into a theater to see something besides a superhero movie, even though I completely love them, like really — sometimes I think I get more excited about the new Avengers than they do. But one cannot live on Thor and Iron Man alone — so when opportunities like this come up I am excited to be able to take part.  Alice in Wonderland is a story we already love, to see it performed this way is so exciting!
Here's a little more about Cincinnati Ballet's newest production:
From the revolutionary vision of The Washington Ballet's Septime Webre, ALICE (in wonderland) is refreshingly original, having premiered regionally in 2012, and showcases modern production elements such as elaborate, eye-popping scenery and characters who take flight. The production features gorgeous costumes by Liz Vandal and a commissioned score by Matthew Pierce. Cincinnati audiences may be familiar with Webre as the choreographer of Cincinnati Ballet's praised production of Peter Pan, performed earlier this season. Liz Vandal is a celebrated costume designer whose unique, elaborate designs have graced the stage of Cirque du Soleil.
If you haven't seen sneak peeks of the costumes yet you are in for a treat — they are gorgeous and colorful and I cannot wait to see them in action.  The music is something else that is sure to be amazing.  It's an original score, and although it was originally written with a small ensemble orchestra in mind it's been expanded for these performances.  Check it out:
The original score was created for an ensemble orchestra, but Cincinnati audiences will experience a version that is expanded to utilize the breadth of the magnificent Cincinnati Symphony Orchestra. Webre worked closely with composer, Pierce, throughout the creative process to give each character its own unique musical sound effects, bringing each of the favorite characters to life on stage. The vibrant cast is comprised of a combination of Cincinnati Ballet dancers, children from the Otto M. Budig Academy and even some larger than life puppets. When paired with Pierce's unique score, they are sure to pull the audience right down the rabbit hole with Alice.
I think it's safe to say that if you choose to attend one of the five scheduled performances of Alice (in Wonderland) you will NOT be disappointed!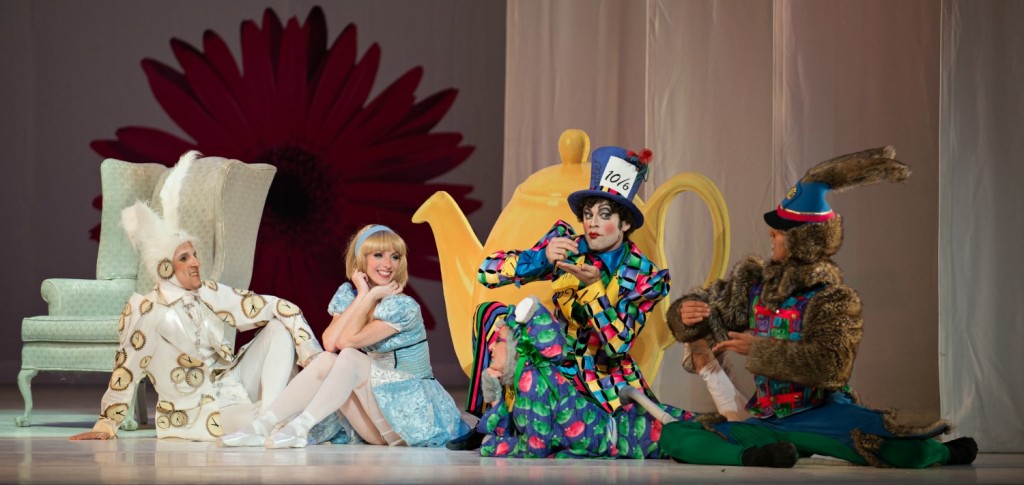 We are so excited about this production that we've partnered with Cincinnati Ballet to give away a Family 4-pack of tickets to see the show on opening night – February 13!  Read on for information on how to enter to win:
WIN WIN WIN
One lucky FFC reader will win a Family 4-pack of tickets to see Alice (in Wonderland) performed by the Cincinnati Ballet at the Aronoff Center on opening night – February 13!
So how can you enter to win? It's so easy!  Simply answer the question below:  Additional items are bonus entries. Leave a separate comment on this post for each one you complete.  A total of FOUR entries are possible.
Question:
Which Alice in Wonderland character are most excited to see on stage during this performance?

Bonus Entries:
Sign up for our Enewsletter: http://eepurl.com/bxdIb
Check out Family Friendly Cincinnati  and Cincinnati Ballet on Facebook.
Tweet about this giveaway, including @FamFriendlyCin and @CincyBallet in your Tweet.
That's it…that's FOUR ways to enter which means FOUR chances to win!  The winner will be drawn and notified via email (we'll also announce it on our Facebook page) on Monday, February 2 at 2 PM. Winner will have 24 hours to respond or another winner will be chosen.
Performances for Alice (in Wonderland) are as follows:
Friday, February 13 – 8:00 pm
Saturday, February 14 – 2:00 pm
Saturday, February 14 – 8:00 pm
Sunday, February 15 – 1:00 pm
Sunday, February 15 – 5:30 pm
Cincinnati Ballet performs at Aronoff Center for the Arts, 650 Walnut Street, Cincinnati, Ohio 45202. Tickets start at $32. To purchase tickets call 513.621.5282, visit cballet.org or visit the Cincinnati Ballet Box Office at 1555 Central Parkway, Cincinnati, OH 45214.
disclosure: We were provided with tickets to attend the show in exchange for sharing information on the performance.  All views expressed above are 100% our own.