Yes, I'm one of those people.  I take pictures of my food.  To me, a nicely plated meal is a work of art.  Someone needs to document the creativity and mouthwatering goodness that is on that plate. Especially, since the honeymoon doesn't last long. You only see the beauty for a fleeting moment since 1) you are hungry and 2) you don't want to overly annoy your fellow diners.  My friends know that when we dine together chances are that I may also snap a few pictures.  After visiting Troy's Café, you can see why the food paparazzi in me surfaced.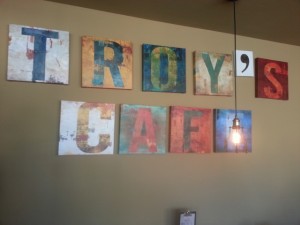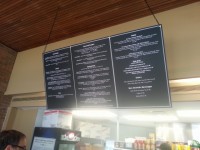 Recently Troy's Café opened in Mason and all of Mason seems to be in a feeding frenzy as we rush to check out the newest addition to downtown Mason dining.  I've been three times within the past two weeks and I've been impressed each time.  I like the concept too.  You order at the counter with the menu board located above.  You may find people just starring and starring at that menu board since it has some delicious options that makes it a tad bit difficult to decide on what to order. Plus they also have daily specials so be sure to ask about those.  After you place your order, you take a number and head to a table.  The dining room area is very intimate so when there is a full house, you may find yourself eavesdropping on some other conversations (shhhh…did I really just admit to that).  Soft drinks are self serve but they also have a beer and wine selection (no corkage fee on Wednesdays).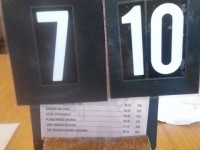 The food is delicious.  It is fresh and your food is made to order. So when your meal is delivered to your table, you know it has just been fixed.  The quality of the food shines through and your first bite will be memorable.  Their menu includes salads, burgers, pasta, and small plates. They also have kids' meals for only $5 and this includes a drink. I think this is a great deal since you are getting fresh quality food and you aren't paying too much more than if you were going to a fast food restaurant.  Choices include meatball and spaghetti, cheeseburger with fries or apple sauce, grilled chicken breast with fries or apple sauce, and kids salad with romaine, cheddar cheese, chicken and ranch.  Troy, is their any chance a kid's grilled cheese can be added?  I know this would be a winner in my family (shameless plug, I know).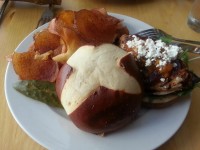 On my first visit I had the Chicken Pretzel Sandwich.   It was soooo good.  The flavors all melded so well together and I would never think that I would be one to go for an "apricot chutney," but I did and I loved it.  Here's a description from Troy's Café menu:  "Grilled Free Range Hormone Free Chicken Breast with Sweet Smokey BBQ Sauce, Apricot Chutney, Goat Cheese and Field Greens on a Bakery Fresh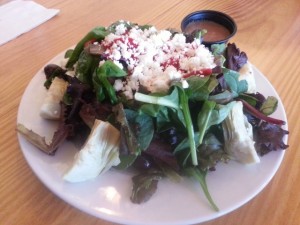 Pretzel Bun – $9.95."  I did have a bit of food envy when I saw some of my friends' meals.  Their salads looked so good.  I'd love for Troy's to put  a 1/2 sandwich, 1/2 salad combo on their menu.  All  my friends gave Troy's Café   high marks for their meals.  When you can get seven women to all agree and give a thumbs up, you know you are on your way to success.
For my second visit, I stopped in for carryout and ordered the Uovo Sandwich. This is a "Fried Farm Fresh Egg Sunny Side Up served Open Faced on Grilled Sour Dough, Aioli, Baby Spinach, Sliced Vine Ripened Tomato, Prosciutto Ham and topped with Parmesan Cheese – $8.95." Ordering an open faced sandwich with a sunny side egg for carryout probably wasn't the best call but the gracious owner, Troy, delicately delivered it to me and told me to be careful.  Not to worry Troy, that sandwich wasn't going far. My girls were at homework help at the Mason Public Library so I dined in the parking lot.  The sandwich was delicious.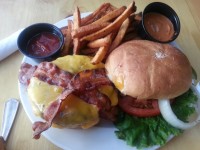 On my third visit, I felt that I probably should clue my husband into Troy's Café. He ordered the Troy's Burger , " topped with Aged Wisconsin Cheddar and Corn Cob Smoked Bacon $9.25″.  He added a side of fries for $1 and thoroughly enjoyed his meal.  The clean plate club would be proud.
During every visit, the employees were very friendly and helpful.  Delivering your food with a smile is a great way to foster a positive dining experience.  You can tell that Troy takes great pride in his restaurant and so do his staff.  Having Troy's Café here is a very welcome addition to dining in downtown Mason.  I hope you'll get a chance to visit one day soon.  If you go for lunch, make sure you pick up a lunch punch card (buy 7 lunches and get one free).  Happy Dining!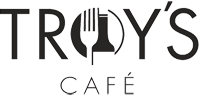 Locations:
Mason
322 Reading Rd. Mason, OH 45040
513-701-9367
www.troyscafeandcatering.com
Troy's Café Mason is on Facebook too!
West Chester
4877 Smith Rd. West Chester, OH 45069
513-860-3206
When not blogging for Family Friendly Cincinnati, you can find Kristin writing on her personal blog, MasonMetu (from me to you).