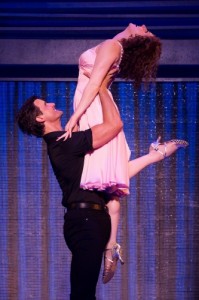 When I was in high school, my friends and I wore out my VHS copy of Dirty Dancing…yes, you remember VHS tapes, right?  We loved that movie!  When I found out that the stage version of Dirty Dancing was coming to the Aronoff Center this month, I was thrilled!  I had always loved the music, dancing, and of course…Patrick Swayze as Johnny Castle!
The live show is very true to the movie, with a couple of extra moments.  The scenes are projected on stage in the background to give the feeling of being at Kellerman's, the swanky resort that Baby and her family visit that summer in 1963.  At first, I thought this may be a little distracting, but overall, it was a great way to bring the movie to the stage.  The actors playing Baby (Jillian Mueller) and Johnny Castle (Samuel Pergande) did a great job and I loved watching the first dance scene between the two, at the dancers' clubhouse.  I remember the awkward moment between Baby and Johnny in that first scene and cracked up watching Mueller spin around like a dizzy school girl after Johnny twirled her and left her on the dance floor.
It is very hard to imagine Dirty Dancing without Patrick Swayze.  But, Pergande does a great job of bringing Johnny Castle to the stage, complete with bad boy attitude and just the right amount of swagger mixed with a little self doubt.  His dance partner Penny, played by Jenny Winton, is fantastic as the leggy dancer who's known Johnny since they were kids.  I love the dance scene in the movie as they show off in front of Kellerman guests, and loved it just as much in the stage adaptation.  
A few moments were added to the stage performance that were not in the movie.  There is very little singing in the movie Dirty Dancing, but Jennlee Shallow (Elizabeth) and  Doug Carpenter (Johnny's cousin Billy)  gave stand out performances in the stage version when they belted out a couple of phenomenal songs. While the stage version stays very close to the movie, the romance between this couple was added to accompany the story line of 'forbidden' love…whether that be between perceived classes or race.
Dirty Dancing is a great date night or girls night out show!  The show has many adult situations and is not suitable for children, but check out our other date night posts to find a great place for dinner, then head over to the Aronoff Center to catch the show!
Here are more details about the show:
Dirty Dancing—The Classic Story on Stage is an unprecedented live experience, exploding with heart-pounding music, passionate romance, and sensational dancing. Seen by millions across the globe, this worldwide smash hit tells the classic story of Baby and Johnny, two fiercely independent young spirits from different worlds who come together in what will be the most challenging and triumphant summer of their lives. Featuring the hit songs, "Hungry Eyes," "Hey Baby," "Do You Love Me?" and the heart stopping "(I've Had) The Time of My Life. " London's Sunday Express says "This crowd-pleasing stage adaptation hits the jackpot!"

It's the summer of 1963, and 17-year-old Frances 'Baby' Houseman is on vacation in New York's Catskill Mountains with her older sister and parents. Mesmerized by the racy dance moves and pounding rhythms she discovers in the resort's staff quarters, Baby can't wait to be part of the scene, especially when she catches sight of Johnny Castle, the resort's sexy dance instructor. Passions ignite and Baby's life changes forever when she is thrown in to the deep end as Johnny's leading lady, both on-stage and off.
Dirty Dancing – The Classic Story On Stage will play the Aronoff Center from September 23 – October 5: Tuesday – Thursday at 7:30PM, Friday at 8:00PM, Saturday at 2:00PM and 8:00PM and Sunday at 1:00PM and 6:30PM. Tickets for Dirty Dancing – The Classic Story On Stagestart at $29. They are available at the Aronoff Center Box Office downtown at 650 Walnut Street, online at CincinnatiArts.org or by phone at 513.621.ARTS. For groups of 10 or more, contact the group sales department at 513.369.4363. Performance schedule, prices and cast are subject to change without notice. For more information, please visit www.BroadwayInCincinnati.com.
Get your tickets today!
Photo Credits: Matthew Murphey, provided by Broadway in Cincinnati
Disclaimer:  I received complimentary tickets for this performance.  As always, all opinions are 100% my own…and I loved this show!!
When not blogging for Family Friendly Cincinnati, you can find Michelle writing at her personal blog, I'm Living the Good Life.