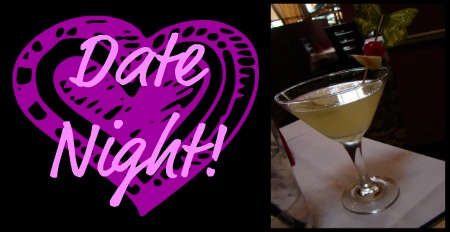 While we gals at Family Friendly Cincinnati love to find fun things to do with our families around town, we also treasure our date nights with our spouses.  Just in time for Valentine's Day next week we have a list of our favorite places around town for a delicious date night dinner.  Please leave us a comment telling us about your favorite date night destination!
Michelle's Favorite Date Night Destination ~ Argentine Bean
I have 3 kids.  When my husband and I have a chance to go out to dinner by ourselves, I can guarantee you that we will do our best to go somewhere with as few children as possible.  The fewer the better.  In fact, zero is best.  If we could go into negative numbers with this, I would.  Anyway, where do we go?  Right now our favorite place is Argentine Bean in Crestview Hills Town Center in Crestview Hills, Kentucky.
It is quiet!  Except for the lovely live guitar music that is sometimes played on a weekend night.  The food is wonderful and unique and never repititious because they mix up their menu periodically.  The restaurant is small and cozy.  You can sit at a small table or on a couch.  The staff is friendly and knowledgeable.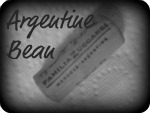 All of this makes for a fantastic date night atmosphere.  My husband and I love going here for a quiet, romantic evening.  The first time we went I was so enamored with the place that I stuck the cork from our wine bottle in my purse and told him that I would always keep it to remind me of our date.  And, here it is!   I hope you will try it and enjoy it as much as us!
When not blogging for Family Friendly Cincinnati, you can find Michelle writing at her personal blog, http://imlivingthegoodlife.blogspot.com/
Phyllis' Favorite Date Night Destination ~ York Street Cafe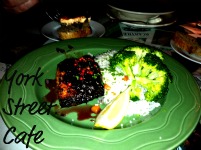 While I don't go to York Street Cafe often, every time I have been has been a delightful experience.   Most recently I took my husband and didn't realize he had not been before.  He was pleased with the atmosphere -plenty of distractions, food -delicious and service -impeccable.  So the atmosphere is fun, eclectic and just downright interesting.  My husband noticed right away it used to be a Pharmacy, apparently up until 1960s; more on the history here.  The menu is diverse and the food is delicious.  Right away my husband was distracted by the desserts which were proudly displayed; I remembered how good the Mediterranean Board was, in fact they have several "conversation boards" to choose from, but decided to try something new: the Grilled Salmon named in City Beat's "The Best Thing I Ever Ate in Cincinnati" and was cooked perfectly according to "the critic" and my husband got the beef barley soup and said it was delicious.  While we did not partake, they offered a bottle of wine for $1 with the purchase of two entrees on Tuesday night.  The service was welcoming in fact I was a little taken back in a good way at the warm welcome we received when we arrived and as we departed.  The server was equally warm, gracious and informative.  This one I need to remember more often.  Great place to share great conversation over a glass of wine, desert, tea or a meal.
When not blogging for Family Friendly Cincinnati, you can find Phyllis writing at her personal blog, http://cincyhealthcoach.com/
 Erin's Favorite Date Night Destination ~ Nada
As a mother of 4 children, life can be pretty hectic at times.  the endless list of household chores, tiny messy fingers artfully painting your home with spills, and the dreaded repeated question of "What's for dinner?".  Privacy is a far off dream and personally for me, date night, is a priceless gift.  Down deep I would say I am a hopeless romantic, but romance is tough to squeeze in sometimes with our family's chaotic schedule.  Personally, I look forward to certain times of the year like my wedding anniversary, my birthday (although I hate getting older), and Valentine's Day.  Why?  Because they provide me the rare occasion to get out and enjoy a treasured date night with my husband. Forget the getaways and dozens of roses, this mom wants to go to a nice restaurant and just relax!
 With Valentine's Day fast approaching, I have a few select restaurants which I love and one of my favorites is
Nada
.  My husband and I first went there a couple of years ago for our 2nd wedding anniversary and immediately I became hooked.  Conveniently located downtown, Nada is adjacent to the Aronoff Center and has a fantastic patio area perfect for warmer days. Inside you will find a vibrant, unique, and lively atmostphere.  Just the jolt of energy a busy mom needs to feel young and hip again.  Their menu consists of a contemporary Mexican cuisine and will not disappoint even the pickiest of eaters like me!  A few must try's include their Mexican Mac N' Cheese, Chips & Salsa, and Nada Sliders (cool twist on a White Castle classic) appetizers; Chicken Tortilla Soup; Baja Fish Tacos (my hubby's favorite), and Grilled Adobo Rubbed Pork Chop.  If by chance you are able to save some room for dessert – try the Warm Chocolate Tarte: Madisono's Banana Foster Gelato & Rum Caramel Sauce.  Heaven on a plate I tell you.  One of their best features – the staff.  Chatty, articulate and knowledgeable of the menu, and perfectly prompt.  Great service, excellent food, and a cool atmosphere – your sweetheart will not be disappointed.
Every time we have been there, it has been extremely busy – so make reservations ahead of time.  You can easily do so online or by calling them directly.  We tried to stop in recently and the wait for standing room was 2 hours!  If time was a luxury, trust me – I would have waited.
Kristin's Favorite Date Night Destination ~ The Cricket Lounge
My husband and I got a special treat last year when we dined at the famous Palace Restaurant in the Cincinnatian Hotel for dinner. This is fine dining at its best.  While our dinner was amazing and the service was over the top excellent (I was so not used to someone scraping off my bread crumbs with a knife into a pretty dish), I'd really rather talk about The Palace Restaurant's sister, The Cricket Lounge. I love visiting The Cricket Lounge especially during happy hour.  They have happy hour every day of the week from 4-7pm with some great deals.  If you are heading downtown for a night out, I'd highly recommend stopping her for a cocktail first.  Or if you just want to enjoy a nice bite to eat, a cozy atmosphere with some delicious menu items then head on down.  In my opinion they have the BEST burger in Greater Cincinnati.  During "happier hour", this bombshell of a burger is only $5 and it's prepared by in the same kitchen as the famous Palace Restaurant.  You can also get a martini ($5), an import beer ($3). domestic beer ($2.50) and 1/2 off their house wines by the glass.  On the weekends, they will have live jazz playing in the background and during the week you may hear some nice piano music.  My parents first introduced us to this gem and I'm so glad they did.  It's always on my list of "go to" places in Cincinnati if anyone asks me for a recommendation.
When not blogging for Family Friendly Cincinnati, you can find Kristin writing on her personal blog, MasonMetu (from me to you).
Karen's Favorite Date Night Destination ~ Azad India
When Katie first asked for a review of a restaurant perfect for a date night,my first thought was (panic! date night? what ISthat?). The panic was from the judgement I feel because my husband and I just don't do many date nights.  I don't know why, really, we are each other's best friend, so we always have lots to share with each other,we just don't get out by ourselves very often. I used to get hung up about it, but honestly, even before kids, we just didn't go out much. After the initial panic from the request subsided, I then moved on to my choice. When/if, hubs and I get away without the kids, we normally go for something a little bit spicier and a little more yummy to us than the local pizza joint (not that there's anything wrong with pizza).
 Lately, for us, our choice has fallen to a fairly new, hidden away little Indian Restaurant called
Azad India
in Blue Ash. It sits a little less than a block off of the corner of Cornell and Reed Hartmen Highway (4726 Cornell Rd., Blue Ash, OH 45241 / 513-530-9999). In our opinion, and we've been to Indian restaurants both here and abroad, this restaurant has some of the best Indian food we've ever eaten. Period. No joke. The restaurant is small, but the flavors are huge. Our service has always been excellent and the atmosphere pleasant.
 We normally have the assorted vegetable platter for an appetizer and vegetarian dishes for our main courses–their Nan bread is fabulous! You can find coupons on their website.
 We hope if you go, you'll enjoy it as much as we do!
When not blogging for Family Friendly Cincinnati, you can find Karen writing at her personal blog, littleworldafterall.com
Katie's Favorite Date Night Destination ~ Senate
When my husband I get out by ourselves for dinner (which can be a rare occurrence with four munchkins) we like to find new restaurants around town to try out.  We love to eat at restaurants that are locally owned.  It was hard to pick just one place to write about, but lately our favorite has been
Senate
.  We loved their eclectic menu, wide variety of beers, and the fact that you can watch the hustle bustle of the kitchen from your table.  Don't let the fact that they are known for their hotdogs fool you into thinking this is not a nice place to eat.  These are not just ordinary hotdogs, they are gourmet wonders.  The chefs at Senate come up with the most interesting combination of ingredients for their gourmet
dogs
.  Senate is also know for it's burger (delicious!), and of course their poutine (I could eat this every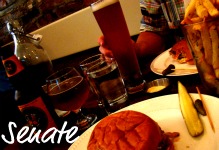 day).  Michael loved their lobster blt.  Everything I have tasted there has been mouthwateringly delectable.  
Senate
is located at 1212 Vine Street, Cincinnati.  A word of warning, Senate is a very popular dining destination, and it's a small restaurant.  We've always had the best luck getting seated right away by getting there early in the evening.  If you arrive later in the evening you might have to wait, but not to worry, they have a bar where you can wait.  If you have time after dinner head over to
Japp's
for a drink made by the marvelous Molly Wellmann, or a few blocks away is the Pendleton Arts Center which you can read about
here
.
Heather's Favorite Date Night Destination ~ Nectar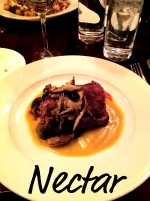 Nectar is the perfect place for date night. There was a family dining there also, with small children, but this is an experience that deserves quiet and relaxtion. And the ambiance is exactly that. The food is delicious!  Nectar serves as much locally produced vegetables, meats, and products like eggs and cheeses as possible. Their menu changes seasonally, to provide the freshest ingredients.  We started the meal enjoying The Artisan Cheese Plate, along with house made olive oil cracker bread ($13.50). We really could taste the specific flavors of each specialty cheese! Amazing goodness. My husband ordered the Tri-tipped sirloin (grass-fed KY beef) with mushroom sauce and the best vegetables I've ever tasted! I ordered Vegetable Dosas, which included lentil and rice pancakes with curried potatoes, garbanzo stew, cilantro chutney, saffron curry sauce ($17). The wait staff and chefs are extremely knowlegable and kind. The chef brought out a complimentary bowl of the strawberry rhubarb gazpacho soup and I was impressed. We will be returning to Nectar!
Submitted by guest contributor, Heather Fowee who is an active wife and mother of fours girls and is currently about to finish her certification to be a Health Coach.  
A few more restaurants around town that we've written about that would make a great date night destination (click on the restaurant name to read our review) ::

Bronte, A Novel Bistro (and then do a little book shopping with your beloved!)
Giuseppe's Pizza (for a more casual Valentine's dinner head to "the G" and get yourself a heart shaped pizza pie!)
KungFood Chu's Amerasia (If you can't get out for dinner this Valentine's day you can always get carryout from Amerasia!  That would be the way to my heart!)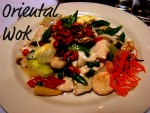 Reality Tuesday (a perfect place for coffee & dessert after dinner!)
Rock Bottom Brewery (Does your Valentine love craft beer?  This is the place to be)
Sky Galley Restaurant at Lunken Airport
Are you having a family date night for Valentine's day?  Or perhaps a father-daughter dinner?  Or mother-son outing?  Check out our comprehensive list of family friendly places to dine Downtown.
And check out DowntownCincinnati.com for more Valentine's Day happenings!
Kristin G has lots of Restaurant Recommendations on her blog on her "Grown Up Time" page : 
MasonMetu
What are your Valentine's plans this year?
**This date night post was originally written in February 2012, updated February 2013