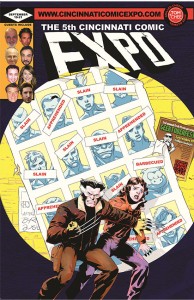 We have a secret:  We are comic book geeks.  Okay, maybe that's not much of a secret anymore…we do love to share our love of comic books around here.  It's definitely no secret that we love Tom+Chee.  We've been devoted followers of their tasty goodness since their humble beginnings in a tent on Fountain Square…and we've proudly watched them grow and spread the cheesy goodness across the nation.  Combining comic books and Tom+Chee is nothing short of a stroke of brilliance as far as we are concerned…so we are VERY excited to bring you all the juicy news about the Cincinnati Comic Expo 2014 and the Tom+Chee Kid's Zone!
Tom+Chee is sponsoring the Kid's Zone at the Cincinnati Comic Expo next weekend — September 19-21. 
The Cincinnati Comic Expo, at the Duke Energy Convention Center, is a weekend long event full of fun, comics, special guests, and much more.  The Cincinnati Comic Expo is the brainchild of Director Andrew Satterfield.  After leaving town, yet again, to attend a comic book show he thought how wonderful it would be if Cincinnati had a show of it's own.  In 2010 he made that dream a reality and the Cincinnati Comic Expo was brought to life!
You won't just find hundreds of amazing comics when you attend the Expo, you'll also have the opportunity to meet amazing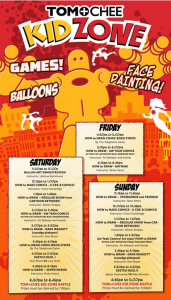 comic book artists and creators such as Greg Horn (Guardians of the Galaxy) and Neal Adams (Batman) , actors such as John Rhys-Davis (Indiana Jones and Lord of the Rings), Lou Ferrigno (The Incredible Hulk) and Paul McGann (Doctor Who), and be able to check out The General Lee, and Scooby Doo's Mystery Machine.  And this is just the tip of the iceberg…there are so many more special guests!  You'll also have the opportunity to shop for unique and fun comic book and fandom related items that you might not find anywhere else.
The best part — Tom+Chee is sponsoring the Kid's Zone and it is guaranteed to be a ton of fun for kids and parents alike! Face Painting, games, balloons, and a schedule of events for Kid's Zone visitors that totally rocks. Participants get a passport to go through 8 games where you can then win a prize. From drawing workshops to Bricks By The Banks (LEGO), it's an amazing offering for kid's of all ages!
For more information on this event please visit www.cincinnaticomicexpo.com.  Ticket prices vary by day and age so please visit their ticketing page for more info.  For a look at the amazing floor plan (you gotta plan your route!) go here: Cincinnati Comic Expo Floor Plan.
Tom+Chee will not only be proudly sponsoring this event, but they will also be serving up their unique brand of grilled cheesy goodness, too!  So go hungry…you won't regret it!!