Does your family love science?  Are you looking for some FREE family fun?  Look no further than the Kenton County Public Library and their Camp Wonderopolis Program that is going on now through August 13th on Wednesday evenings.  Bring the whole family and enjoy a nice dinner and then spend time together learning more about all kinds of science topics.  My family attended this week and we all learned new things and got excited about science, AND we had a tasty dinner from Kung Food Chu's Amerasia.  In fact, we had so much fun that the very next day my boys bought science kits to take on vacation, and we're headed back to the Kenton County Public Library next week to find some books about science to continue our learning!  If this sounds like something your family would be interested in then you should check it out on the Kenton County Public Library's website and register your family SOON as classes are quickly filling up!  If a class is filled be sure to stay on the waiting list, as you never know if spot might open up.
More Information from KCPL about Camp Wonderopolis ~
Camp Wonderopolis™ is a free camp where parents and children can learn and explore the wonders of the world together. For six-weeks starting Wednesday, July 9 at 6:30 p.m., the Covington Branch of the Kenton County Public Library will offer the opportunity to "wonder" about topics such as the zoo, a prehistoric dig site, the woods, a science lab, an amusement park and hear about outer space. All of these components relate to science, technology, engineering and math, also referred to as STEM.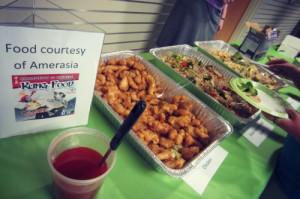 Guest presenters include staff from the Cincinnati Observatory, the Behringer Crawford Museum, and the Newport Aquarium to lead activities each week. Included at each session is a free meal by sponsored by KungFood Chu's AmerAsia (Covington), Keystone Bar & Grill (Covington), and Chick-Fil-A (Newport Pavilion).
 "This is a wonderful opportunity for parents and children to spend quality time over the summer together to learn something new," stated children's librarian Krista King-Oaks. "We know through the summer months it is important to keep children engaged in learning so they can return to school ready to learn. And if we can make it fun there's a greater chance the child, and parent, will stick with it."
 The Camp Wonderopolis experience is created by the National Center for Families Learning (NCFL) and supported by Better World Books. In addition to providing programs at the Library, participants can go to the Camp Wonderopolis website at http://camp.wonderopolis.org, to continue learning fun and interesting facts. For example:
 Scientists estimate that cheetahs can reach speeds between 70-75 miles per hour. Currently, the world's fastest human being is Jamaican Usain Bolt, who set the world record in the 100-meter dash in 2009 with a blistering time of only 9.58 seconds. That world record equates to a speed of just over 23 miles per hour. That's fast, but it's no match for the cheetah's over 70 miles per hour!"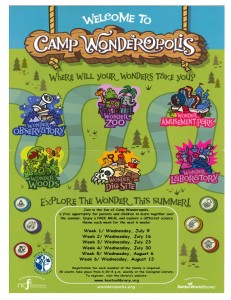 Camp Wonderopolis at the Kenton County Public Library is free but registration for each member of the family is required by calling (859) 962-4077 or by going to www.kentonlibrary.org/events. Space is limited. The Covington Library is located at 502 Scott Boulevard.
Like I said, some of these sessions are already full, so don't delay on reserving your spot for the remainder of the sessions!  It really is a great experience, and you can't beat that price! You get dinner, a goodie bag, access to the Camp Wonderopolis website, and a learning session.   I joked when we went that the kids were in it for the science and that we were in it for the food, but that's not true, we enjoyed the science part too.  We ALL learned new things!  And after learning about science the kids were able to make their own "slime" to take home.  They loved that!  Overall it was an awesome evening, and we hope to make it another Camp Wonderopolis session very soon.
Visit the Kenton County Public Library website for more details and to sign up.  And to see more pictures from our evening at Camp Wonderopolis visit the Little Things Blog.