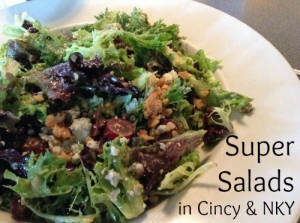 Eating healthy can be a challenge when you eat out at restaurants.  It's hard to choose a salad when you are faced with a menu full of tantalizing, calorie-laden choices.  And while some salads can be on the unhealthy side because of toppings and dressings, they can often still be a better choice than chomping on huge entrees.  You can always maintain some control over your salad in a restaurant by asking for the dressing on the side, or requesting light cheese, less toppings, or special changes like that.  The same ol' side salad gets boring, so we've put together a list of great places to grab a salad around town.  Thank you to our readers and writers for helping us compile this list, hopefully it will give everyone an idea of where you can grab salad.  Writing this has even inspired me to step outside of my box and try some new salad combos I've not been adventurous enough to try before!
Super Salads in Cincinnati & Northern Kentucky ::
Arthur's Restaurant
Our readers tell us that Arthur's has a great Buffalo Chicken Salad!
3516 Edwards Rd, Cincinnati ~ (513) 871-5543
Blinkers Tavern
318 Greenup Street ~ 859-360-0840
Family Friendly Cincinnati Review of Blinkers Tavern
Chipotle
FFC Contributor Michelle loves to get a salad at Chipotle with pork carnitas, pico de Gallo, guacamole…no dressing and it's delicious!  Visit the Chipotle Website to find a location near you.
Cock & Bull Mainstrasse
Cock & Bull has several salads to choose from, my favorite is the Spinach Salad which has bacon, goat cheese, candied walnuts and apples.  I'm a huge fan of bacon, eating it on a salad makes me feel better than eating it on a BLT.

C&B has locations in Covington, Glendale & Hyde Park
Dewey's Pizza
There are several locations around Cincinnati and NKY, check their website for a location close to you!  Dewey's offers several salad selections, our favorite is the Grape & Candied Walnut Salad.  They also have seasonal salads like the Strawberry Macadamia Nut Salad in the summer which is delicious.  They are a great side for one of Dewey's tasty pizzas, or on their own as a meal.  The writers at FFC are huge fans of Dewey's salads!
Dilly Cafe
6818 Wooster Pike, Mariemont ~ 513.561.5233
Essencha Tea House
Vegetarian & Vegan Cuisine
3212 Madison Rd, Cincinnati ~ 513-533-4832
Giuseppe's Pizza
Delivery available in Covington ~ fresh ingredients!  They are know for their sandwiches and pizzas, but their salads are GREAT too!
2607 Madison Avenue, Covington ~ 859-814-8444
Family Friendly Cincinnati's Review of Giuseppe's
Gold Star Chili
You wouldn't think of a chili joint having good salads, but our readers say that the Spring Harvest Salad at Gold Star is tasty!
Jason's Deli
You can find organic options & unique recipes here but NOT high fructose corn syrup or MSG!
3831 Edwards Rd, Cincinnati ~ 513-351-1685  
Keystone Bar & Grill
Keystone has several options to choose from, as well as seasonal salad selections.  The Strawberry Spinach Salad is a seasonal salad and I love it!  
313 Greenup Street, Covington ~ 859-261-6777
Family Friendly Cincinnati's Outdoor Dining post (with a blurb about Keystone)
Kinneret Cafe
Vegetarian Restaurant known for their Israeli and Mediterranean Food.
8316 Plainfield Road, Cincinnati ~ 513-791-1777
Kitchen 452
2714 Woodburn Ave, Cincinnati ~ 513-559-0452
Metropole at the 21C Hotel
The Burnt Carrot Salad is out of this world!
609 Walnut St, Cincinnati ~ 513-578-6660
Molly Malone's
112 E 4th St, Covington ~ 859-491-6659
Otto's
Try the Brie Berry Salad, or the Arugula Beet Salad…you won't be sorry!
521 Main Street, Covington
Panera Bread
With several locations around town, you're sure to find a Panera near your neighborhood.  Our readers and writers alike enjoy the Strawberry Poppyseed Salad and the Asian Sesame Chicken Salad.
Reality Tuesday Cafe
This is a regular hangout for some of the FFC contributors, and we love their salad!
1518 Dixie Hwy, Park Hills ~ 859- 261-4939
Red Zone Neighborhood Grill
Several FFC readers AND writers have bragged on the salads at Red Zone
Located in Fort Mitchell, KY & Blanchester, OH
Rusty Bucket
There are locations in Rookwood & Mason, Rusty Bucket is an FFC favorite, and their Blackened Salmon Salad is scrumptious!
Skip's Bagel Deli of West Chester
Our readers tell us you can find a great Greek Salad at Skip's!
7132 Cincinnati Dayton Road, West Chester ~ 513-777-5444
Sotto Traditional Italian Trattoria
Word on the street is that the Farro with Beet Salad is delicious!
118 E 6th St, Cincinnati ~ 513-977-6886
Strong's Brick Oven Pizza
I'm quite smitten with Strong's Signature Salad, the Polpetta Insalata which can serve as a meal on it's own.
336 Monmouth St, Newport ~ 859-291-6836
Through the Garden
10738 Kenwood Rd, Cincinnati ~ (513) 791-2199
Through the Garden on Facebook
Whole Foods Market
Not in the mood to cook but you don't want to eat out either?  Hit the salad bar at Whole Foods!  So many options!  It's one of our favorite salad bars around town!  WF has locations in Rookwood and Mason.
Yard House
95 E Freedom Way ~ 513-381-4071
York Street Cafe
738 York St, Newport
Salads At Home, Our Favorite Recipes ::
Panzanella ~ Also known by some as bread salad, this recipe makes a perfect meal by itself or a side dish with pasta.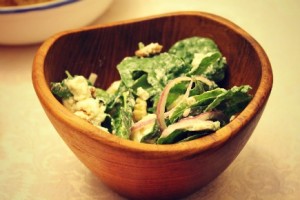 Spinach Salad with Pears, Walnuts & Goat Cheese ~ This tasty salad recipe comes from Whole Foods and it's a real treat!
Favorite Salad Recipes from Vicky and Jen, What Really Matters ~ The Sweet Vinaigrette recipe on this website is a stand-by at our house.  We love it on a simple salad with toasted almonds.  It's delicious!
And thank you to one of our readers for sharing this great article on Men's Health about Healthy Salads (Eat This Not That).  It's quite eye-opening and will help you choose healthy salads in restaurants.