Are you looking for a restaurant to visit for a family restaurant that has something for everyone…kid's faves like grilled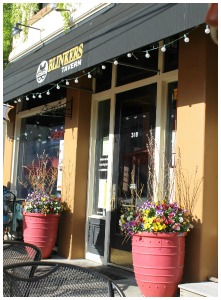 cheese and some nicer options for the grown-ups?  Blinkers Tavern in Covington is a perfect place for a family dinner, or even for a date night.  I had no idea what to expect when we went to Blinkers a few weeks back, other than friends had highly recommended that I grab a bite there.  I was not expecting their menu to be as diverse and full of so many tasty options.  As a matter of fact, my one complaint about Blinkers Tavern is that it took me FOREVER to decide what to eat, because of all the options.  I finally settled on the special of the evening, while telling myself that I would go back very soon to try the other menu items that I was tempted to taste.  Blinkers Tavern has both indoor AND outdoor seating, as well as a bar.  We choose to dine outside because it was a beautiful night.  I love sitting outside at restaurants in the warmer months.  You can read more about all the great places to dine outdoors in the Greater Cincinnati Area in this blog post.  Blinkers Tavern's outdoor seating is on the sidewalk in front of their restaurant, so the kids can watch all the foot traffic & car traffic going by.  It's a very lively area, with lots of hustle and bustle, which always keeps my curious kids entertained.  For the children's entertainment they also have a Kid's Menu & Crayons to color with.
I've mentioned the diverse menu…with everything from Sandwiches to Seafood to Pasta.  They have a great selection of burgers to choose from, and when Michael took his mother there for Mother's Day he said that it was one of the best burgers he's had in a long while.  They also have specials each day.  Not only is their dinner menu fabulous, but they also have a lunch menu and a drinks menu that are pretty impressive as well.  I have to throw in that they also have a pretty great selection of beer to choose from.  I'm all about trying new beers lately, and I was excited to have lots of options at Blinkers Tavern and a server who knew his stuff and helped me pick the perfect brew.
When I ate at Blinkers Tavern with family members here's a few of the dishes that we dined on ::

The Salmon Salad: Mixed Greens, Feta Cheese, Strawberries & Pecans; The Salsa Avacado Chicken Melt & The Special of the evening: Parmesan crusted Cod, Horseradish Mashed Potatoes, Asparagus, Lobster Cream Sauce.  Everyone loved their dinners.  And looking at the pictures above, can't you tell why I had a hard time deciding what to eat?!?!
Here's what Max dined on that evening, as well as the Kid's Menu: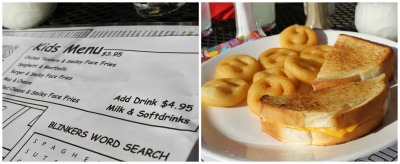 All in all, it was a great dining experience, and I can't wait to go back (again and again).   Not only was the food delicious, the atmosphere comfortable & fun, but the service was absolutely wonderful as well.  The server was quite attentive, quick to get us what we needed (in fact I mentioned that I had limited time for dinner and he brought my food and check first to make sure I didn't run late), and he was very friendly and helpful when I couldn't decide what to eat or drink.  So next time you are looking for somewhere new to take the family for dinner try Blinkers Tavern!
Blinkers Tavern is located at 318 Greenup Street in Covington.  You can find more information on the Blinkers Tavern Website or on their Facebook Page.