Cincinnati Cyclones have advanced to the final round of the Kelly Cup Playoffs!
Friday June 6th, the Cincinnati Cyclones play the Western Conference Champion Alaska Aces in the final round of the Kelly Cup Playoffs!  Join them in their efforts to #TakeBackTheCup and have a great time  with your family.
If you haven't been to a Cyclones game, watching the Kelly Cup Playoffs is a great time to go!  The playoffs is a best of seven series, so the first team to have four wins takes home the Kelly Cup. The Cincinnati Cyclones have won the Kelly Cup twice, back in 2008 and 2010.
Here is the schedule for the Kelly Cup Playoffs, leading up to that exciting game #4!   
Cincinnati Cyclones Schedule:
AWAY: Game 1 at Alaska – Fri. May 30, 11:15pm ET
AWAY: Game 2 at Alaska – Sat. May 31, 11:15pm ET
AWAY: Game 3 at Alaska – Mon. June 2, 11:15pm ET
HOME: Game 4 at Cincinnati – Fri. June 6, 7:35pm ET
HOME: Game 5 at Cincinnati – Sat. June 7, 7:35pm ET*
HOME: Game 6 at Cincinnati – Mon. June 9, 7:35pm ET*
AWAY: Game 7 at Alaska – Wed. June 11, 11:15pm ET*
*if necessary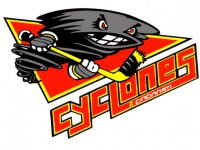 Tickets for the games may be purchased on line at TICKETMASTER or by calling (513) 421-PUCK and are just $20.  You should also  visit the Cincinnati Cyclones website for more information and the latest news.  
Can the Cincinnati Cyclones take home the cup again in 2014?  Will you be there to cheer them on?  Family Friendly Cincinnati has a Family Four-Pack of tickets to giveaway to one lucky reader!  Here's how to enter:
WIN WIN WIN
Must be 18 years of age and live in the surrounding area.  Tickets will be available at Will Call the day of event.  A picture ID is needed to pick up tickets.  Lines for the Kelly Cup Playoffs are historically VERY long, so the winner should arrive early!  The winner will be drawn randomly on Wednesday June 4th and will have 24 hours to respond or another will be chosen.
Please leave a separate comment on this post for each entry.