It's that time of year again — Free Comic Book Day 2014 is almost here!
Saturday, May 3, 2014 is Free Comic Book Day and we've got the scoop on where you can find a store near you, best comics for kids, and more!
We are HUGE comic book fans around our house and look forward to Free Comic Book Day every year.  It's a day of family fun for us and goes way beyond just grabbing our free comics and running…oh no, there's so much more.  It's become a tradition for our family and it's one I treasure.  For one, I love comics and I love that my entire family can spend a day doing something we all love.  The perk?  It gets my kids reading.  Double prizes!
We shared a post last year about all of the important ways that comic book reading can enhance your child's life.  You can read that post here: Become A Reading Superhero On Free Comic Book Day.   This year you can even find the comic book 'How to Raise a Reader' in the aisle on Free Comic Book Day!
Our family makes this an all day event.  We get up early, head to our local comic book store and grab our fun, free comics.  You can always find great deals on Free Comic Book Day as well so we check out the rest of the aisles, look for fun finds and comics we might not have read before, check out the Pokemon cards (of course) and anything else we can find.  When we've taken it all in we head to the check-out, pay for our goodies, and then head out to lunch where we all settle down with our new comics, read, talk about the fun stuff we saw and the new comics we just got, and enjoy our lunch.  It's a great way to have a conversation with my kids (especially the oldest who is heading into the angsty-tween area way too fast) about something you can all enjoy and relate to, and I love seeing them all engrossed in reading!
Turn Free Comic Book Day into a new family tradition in YOUR house!  For a full list of this year's free comic books you can visit www.freecomicbookday.com.   Here are just a few that are sure to be hits with the kids:
Hello Kitty and Friends
Power Rangers
Spongebob
Uncle Scrooge and Donald Duck
The Smurfs
Buck Rogers
Don't forget to pick up a few for yourself!
Here's a list of local comic book shops participating in Free Comic Book Day:
COMIC BOOK WORLD, INC.
7130 Turfway Road
Florence, Ky 41042
(859) 371-9562
ARCADIAN COMICS & GAMES
627 Monmouth Street
Newport, Ky 41071
(859) 291-5071
UP UP & AWAY!
4016 Harrison Avenue
Cincinnati, OH 45211
(513) 661-6300
CAPTAIN COMIC
2105 Beechmont Avenue
Cincinnati, OH 45230
(513) 231-0484
ROCKIN' ROOSTER COMICS & GAMES
5000 Glenway Avenue
Cincinnati, OH 45238
(513) 661-762
QUEEN CITY COMIC & CARD CO.
6101 Montgomery Road
Cincinnati, OH  45213
(513)351-5674
MAVERICK'S BASEBALL CARDS & COMICS
8522 Winton Road
Cincinnati, OH 45231
(513) 521-4900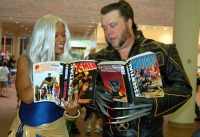 These are just a few examples of local comic book stores but there are many more.  Please visit www.freecomicbookday.com for more info.
Before you go please check websites or call ahead for times and limit on number of comics you can take from the Free Comic Book Day selections as they vary by store.  Free Comic while supplies last at all locations.  Many stores will hold special events with even more special visitors (Darth Vader, Spiderman, Rock 'n Bluegrass Roller Girls) so make sure you plan ahead.  It WILL be crowded at some stores, but it's worth it!
Do you have a favorite comic book store to visit with your kids?  Tell us in the comments!