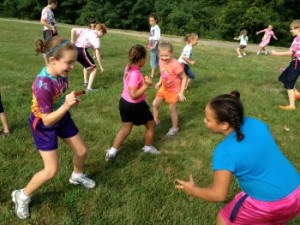 Please welcome Dominach's Taekwondo, with this sponsored post!  We are pleased to help them spread the word about Camp Awesome.
My boys have bugged me for a couple years to try martial arts.  Finally, last summer, we decided to give it a try.  Because Dominach's Taekwondo has been such a visible presence at their school, it made sense to give them a call.  You can check out our initial experience, which was fantastic, HERE.  Both boys are now green belt students.
Dominach's Taekwondo loves to visit local schools for events such as festivals, orientation, Grandparents Night and other celebrations to teach the kids about stranger danger, martial arts, respect and other life skills.  The kids are all ears when Mr. D and his demonstration team take the stage.  And, kids who are students at his school feel special when he high fives them and says hello when he stops by their school.
Did you know that in addition to regular taekwondo classes, Dominach's Taekwondo also has a camp during the summer?  We are super excited to announce that this summer, Dominach's Taekwondo will once again have Camp Awesome!  This is a 3 day camp during which the kids will learn a little taekwondo, play dodgeball and water guns, make new friends, and…be awesome!!
Here's what Dominach's has to say about Camp Awesome:

This camp will be a full day camp that includes a variety of activities and free time, but mainly Dodgeball, Waterguns, and Taekwondo.  Your kids will come home and say simply, "That was Awesome!"Staff:  Mike Dominach, Dominach's Taekwondo Academy (DTA), DTA staff members, & teen/adult volunteers. Location: Camp Awesome will be held at Dominach's Taekwondo (DTA)  2148 Declaration Drive in Independence(next to ACE Hardware) and Memorial Park next to the Senior Center in Independence. Campers will walk on the sidewalks behind Kroger to go back and forth between the park and DTA. In the event of RAIN, all activities will be moved to DTA.Eligibility:  boys and girls ages of 5 – 11. 4yr olds that are taking class at DTA may also attend* DATES: June 23rd (Monday), June 25th (Wednesday) and June 27th (Friday)Drop Off: 8:30am / Pick up: 3:30pm *early drop off and late pick up will be available for an extra charge* Cost of Camp: Registration fee is $120 for the first child and $80 for each additional. ***SAVE when you register before MAY 31st***Awards will be given to AWESOME CAMPERS OF THE DAY.
If you'd like to sign up for Camp Awesome, you may print a registration form HERE!  The registration form also includes details rules and a waiver.  Sign up before May 31st and save money!
Disclaimer:  This is a paid sponsored post for Dominach's Taekwondo.  All opinions are our own.