Dominach's TaeKwonDo: Martial Arts for Kids
My boys have always wanted to try TaeKwonDo, so when Michael Dominach, of Dominach's TaeKwonDo, offered us a month of TaeKwonDo at his studio in Independence, we were excited to give it a try.
Dominach's TaeKwonDo is managed and owned by Michael Dominach and his wife, Vicky, known to the kids as Mr. and Mrs. D.  The Dominachs opened their facility approximately five years ago.
Located at 2148 Declaration Drive in Independence near Kroger, the studio is neat, clean, lined with gym mats and full of kids excited to learn from the experienced instructors.  Parents can watch the action from just several feet away in the front part of the school in the waiting area.
Neither my kids nor I have any experience with martial arts, so I was a little intimidated.   When first meeting with Mr. Dominach, he patiently explained everything we needed to know to get started.  He clearly has a passion for TaeKwonDo and loves working with the kids.  He has been a Taekwondo instructor since he was a kid and is now a 6th Degree Master.
Both of my boys, ages 6 and 10, started in the Beginner Class and learned some basic kicks, blocks and punches in their very first session, which lasted a half hour.  After working with the instructor, and doing some pushups and sit ups, they were tested on what they had just learned and earned their white belts.
They will continue to practice and learn for at least two months, when they are eligible to test for the next level belt.  Testing is every two months, but students should not test unless they feel ready.
What about younger kids?  And, do girls love TaeKwonDo as much as boys?
My 4 year old daughter joined the "Knuckleheads" Class and had a ball.  She was a little shy at first, but quickly caught on to Mrs. D's enthusiastic teaching style.
As I watched my daughter do kicks with her skinny little legs and throw punches with her tiny arms, I laughed at how cute she looked.  Mr. Dominach watched her thoughtfully and smiled as he told me so many kids are pretty awesome in their own minds.
This made me realize how hard she was working at that moment.  And, it made me realize how much he understands the kids.
In the Knuckleheads Class, for children ages 4 to 5, the goal is to control the wiggles, gain some focus and develop an appreciation and basic understanding of martial arts.  She did stretches, some kicks and punches, and made her way through an obstacle course consisting of 'fallen trees' and 'hot lava.'
Being a student at Dominach's is not just going to class and learning martial arts.  It is becoming part of family.  After attending a couple of classes, we were invited to the annual picnic and watergun war.  My kids were super sad to miss it, because we were on vacation, and after seeing pictures posted to facebook, I was also sad we missed it!
When the boys took their first class, I noticed two other students their age helping with the class.  These two students had worked hard to earn the responsibility of helping other classes.  They held kick pads and assisted the instructors as needed.
Kathy Bowen, whose son Jonathon was one of the helpers, had this to say about Dominach's:
"My son Jonathan has been a student at Dominach's Taekwondo Academy for almost 2 years. We attend class at least 4 times each week and he never tires of it. It has been great for his focus and self-discipline. Mr. & Mrs. D and all of the instructors are great! Jonathan also loves the fun activities the school offers its students, such as their Chaos Parties, Camp Awesome and the annual Picnic and Watergun War. My son is one happy student and I am one happy mom!"
Mrs. Bowen also shared with us how much the Academy has increased her son's self confidence–something that is developing at his young age.  It helps children focus as well.  And, after listening to my children answer "Yes, Ma'am!" and "Yes, Sir!" to their instructors, I can see how the Academy teaches respect, discipline and self control in a fun atmosphere.
Would your child like to try out TaeKwonDo at Dominach's?   One lucky Family Friendly Cincinnati reader will win a month of free TaeKwonDo at Dominach's, including a uniform.
RULES
Must be a local resident, age 18 years or older to submit an entry for the contest.  Must be a new student to Dominach's TaeKwonDo .  Please leave one comment for each entry.  Please include an email address in EACH entry so we may contact you if you win.  Three possible entries.  Once contacted, the winner has 48 hours to respond or another will be drawn.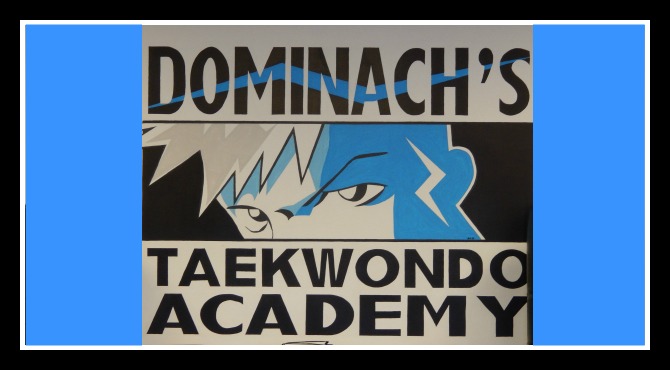 Disclaimer:  I was given one free month of tae kwon do at Dominach's Tae Kwon Do, including uniforms, for my children, in exchange for this giveaway.  Rest assured all opinions are my own.
When not blogging for Family Friendly Cincinnati, you can find Michelle writing at her personal blog, I'm Living the Good Life.