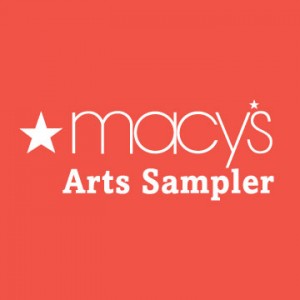 ArtsWave's Macy's Arts Sampler returns for the final weekend next Saturday, April 12 and will once again offer Tri-State families the opportunity to "sample" a wide variety of FREE arts events and performances at community arts centers and other arts organizations across the Tri-State.
We love ArtsWave's Macy's Arts Sampler because at the heart of it, it is all about getting parents & kids out and exploring the arts, perhaps even visiting arts organizations for the first time, with their families.  It breaks down potential barriers of trying something new and brings people together to explore the arts and try fun, new  creative experiences.  If your kids are like mine they aren't always open to trying new things without a trial run, and sometimes you just really need to see something in person before you realize how much you would enjoy it!  Macy's Arts Sampler is the perfect way to try out many different arts experiences and find something new you and your family will love!
Here are some highlights for the final ArtsWave weekend on Saturday, April 12:
Cincinnati Shakespeare Company — Celebrate Bill, The Bard's Birthday and Enjoy Romeo and Juliet – 1:00-4:00 -Help celebrate The Bard's birthday with some hands-on fun activities in the lobby prior to a performance of the classic tragic love story of Romeo & Juliet. Activities will run from 1:00-2:00, followed by the performance from 2:00-4:00 PM.
21C Museum Hotel — Free Art Class with The Bombshells of Cincinnati – 1:00-2:00 -What does the fox say? Yarn bomb me! Join Pinky Shears, Boo Radley, Prickley Pear and all the BombShells for an interactive lesson on yarn bombing. No experience necessary, materials provided, just bring your own "alias." Kids are invited to bring along a stuffed animal to "bomb/dress."
Contemporary Arts Center — UnBuilding in the UnMuseum-12:00-3:00 – Join us to create imagine a new kind of architecture-built by you! We will be creating blanket forts, huggable buildings and more
Clifton Cultural Arts Center — The Children's Theatre/ArtReach present "Sleeping Beauty" – 3:00-4:00 – An enchanted spindle curses Sleeping Beauty to 100 years of sleep. Although protected by her fairy godmother, will anyone be able to save her? ArtReach's "Sleeping Beauty" brings the classic fairy tale by Charles Perrault to life in this enchanting adaptation.
Alice F. and Harris K. Weston Art Gallery — Families Create: "Picture Perfect Plusses" with Anita Douthat – 10:00-12:00- Artist Anita Douthat may not need a camera for her images, but she does use positive and negative space.Learning more about these elements while making your own art equals fun! This workshop is free and open families, but space is limited and registration is required. Please visit http://westonartgallery.com/families-create.php to register in advance.
This list is just the beginning. You can find a complete Macy's Arts Sampler schedule here. This list includes all of the activities scheduled for this Saturday, April 12 along with all the details on the activities.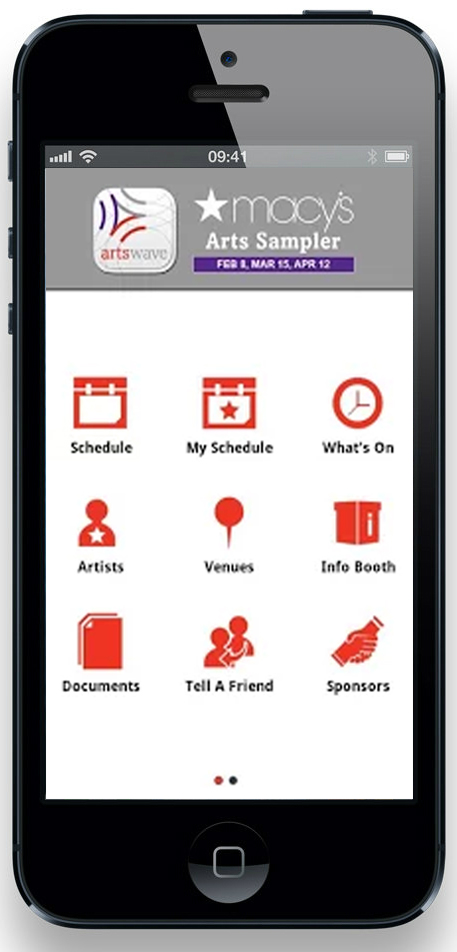 GO MOBILE
Don't forget, you can take your Macy's Arts Sampler "to-do" list with you on the go! To help make navigating all these free activities easier, ArtsWave has an app for Smart Phones, available on iPhone and Android.
The app makes it easy to:
View schedule of free events
See map of venues
Learn more about presenters
Plan & share your Macy's Arts Sampler
Please note, if you have downloaded the Macy's Arts Sampler app in previous years, the folks at ArtsWave would like you to delete it and download the new and improved Macy's Arts Sampler 2014 app.
Disclosure: ArtsWave is an advertiser with Family Friendly Cincinnati. Thoughts and opinions are our own.