One of the great things about living in Greater Cincinnati is the opportunity to experience the arts with your kids.  I think they become even more engaged and excited when they can see their peers participating.  One local young performers theater group really gives youth a chance to shine.  Acting Up  not only produces a full scale theatrical production but they also use local talent throughout Greater Cincinnati to fulfill the roles of cast and crew (ages range from 6-18 years).   The all volunteer production team supports them all the way with production, directing, choreography, set building and costumes.  It's even more fun and exciting for the kids in the show to play to a full house and see lots of smiling faces supporting them. On March 21-23 they will present Once Upon a Mattress at the Mason Middle School. Tickets are only $12 and can be purchased online or at the box office prior to the show. We'd love to see you there!
If you thought you knew the story of The Princess and the Pea, you may be in for a walloping surprise! Did you know, for instance, that Princess Winnifred actually swam the moat to reach Prince Dauntless the Drab? Or that Lady Larken's love for Sir Harry provided a rather compelling reason that she reach the bridal altar post haste? Or that, in fact, it wasn't the pea at all that caused the princess a sleepless night? Carried on a wave of wonderful songs, by turns hilarious and raucous, romantic and melodic, this rollicking spin on the familiar classic of royal courtship and comeuppance provides for some side-splitting shenanigans. Chances are you'll never look at fairy tales quite the same way again.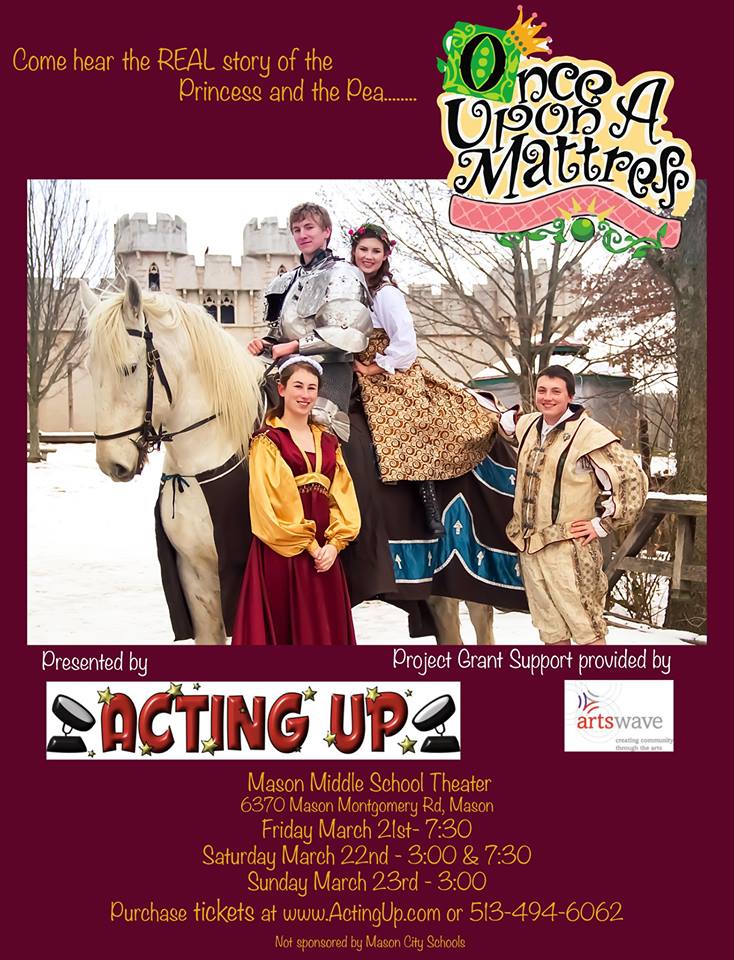 To Enter: Win a family four pack of tickets to one of the shows. Must be 18 years or older and live in Greater Cincinnati/Greater Dayton.  Winners will be notified via email and have 24 hours to accept or a new winner may be selected.  Enter by Tuesday, March 18 at Noon.  Winners will have tickets available at will call prior to the show.
Post a comment below on your favorite art activity or art venue you like to do with your child.
For additional entries do one, or all, of the following (and leave a separate comment for EACH entry in the comment section below to be entered):
When not blogging for Family Friendly Cincinnati, you can find Kristin writing on her personal blog, MasonMetu (from me to you).
Disclaimer: Kristin's daughter is cast in the show as a Young Apprentice. She is helping to spread the word about the show.
Congratulations Gretchen!