It's Baaack!
ArtsWave's Macy's Arts Sampler returns this Saturday, March 15 and will offer Tri-State families the opportunity to "sample" a wide variety of FREE arts events and performances at community arts centers and other arts organizations across the Tri-State.
We love ArtsWave's Macy's Arts Sampler because at the heart of it, it is all about getting parents & kids out and exploring the arts, perhaps even visiting arts organizations for the first time, with their families.  We all know how easy it can be to get in an activity rut and do the same things over and over again. If this sounds like your situation, the Macy's Arts Sampler is for you! It breaks down potential barriers of trying something new and brings people together to explore the arts and try fun, new  creative experiences.
Some of the highlights for Saturday, March 15: 
 Music Hall, 1:00-1:45 PM – "Catch the Spirit!" — Join the Cincinnati Symphony Orchestra, Cincinnati Ballet, Cincinnati Opera, May Festival Chorus and the Cincinnati Shakespeare Company as they bring you a collaborative performance that will let your spirit soar. No tickets are required, seating available on a first-come/first-served basis.
Behringer-Crawford Museum, 1:00-1:30 – Clifton Performance Theatre – Baby Box Theatre  — Children ages 3-9 are invited to build a story, create a character and begin to understand simple stage presence. We will work on our body, voice and emotions to explore our story and then perform it together for our parent audience. Froggy Gets Dressed, I Want my Hat Back and Leonardo the Terrible Monster are some of our favorites!
Fairfield Community Arts Center, 11:30-12:00 – An Afternoon of Bubbles, Blues and The Bard!  – -The Bubble Troll Creates Bubble Art Eddie Smith, AKA The Bubble Troll, creates bubble sculptures, performs bubble tricks, and re-defines the audience's concept of "big bubbles."
Middletown Arts Center, 11:00am  – Cincinnati Chamber Orchestra String Trio concert –Families are invited to listen to the classical sounds of the Cincinnati Chamber Orchestra String Trio. Audience members will be able to interact with musicians, asking questions about instruments and pieces played.
Elementz, 11:30-12:30 – Elementz offers its Hip Hop Dance Classes — Families and individuals of all ages invited to spend an hour learning Hip Hop Dance
This list is just the beginning. You can find a complete Macy's Arts Sampler schedule here. This list includes all of the activities scheduled for this Saturday, March 15 along with all the details on the activities.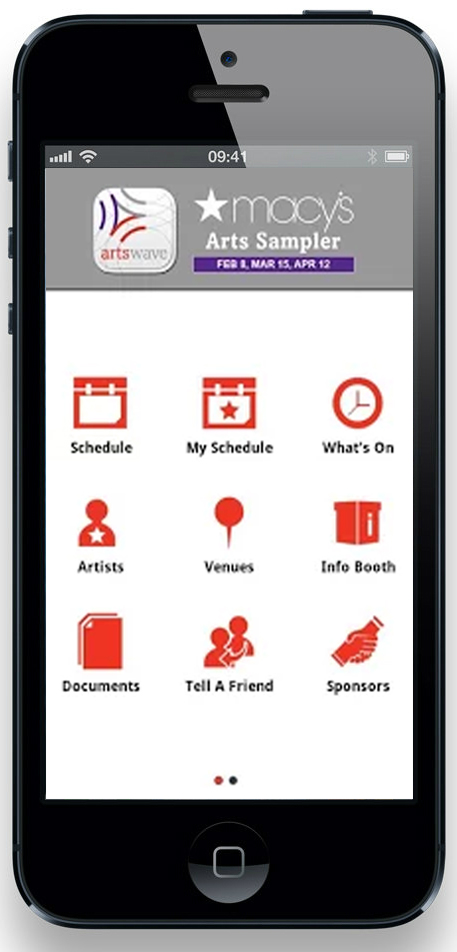 GO MOBILE
Don't forget, you can take your Macy's Arts Sampler "to-do" list with you on the go! To help make navigating all these free activities easier, ArtsWave has an app for Smart Phones, available on iPhone and Android.
The app makes it easy to:
View schedule of free events
See map of venues
Learn more about presenters
Plan & share your Macy's Arts Sampler
Please note, if you have downloaded the Macy's Arts Sampler app in previous years, the folks at ArtsWave would like you to delete it and download the new and improved Macy's Arts Sampler 2014 app.
Disclosure: ArtsWave is an advertiser with Family Friendly Cincinnati. Thoughts and opinions are our own.