It is no secret that I love tea.  I am not a coffee drinker, but I make up for that in my tea intake.  I do not discriminate…Earl Grey, Irish Breakfast, Passion Fruit, Chamomile, or Green.  I love them all.  My favorite teas are black, with a splash of milk, no sugar please.
I am in Bellevue KY a lot and especially love the historic district on Fairfield Avenue.  There are so many cute shops and place to eat.  There is also a tea room!
Mrs. Teapots Tea Room at 339 Fairfield Avenue in Bellevue KY is an English inspired tea room that is perfect for high tea, a birthday party, bridal showers, or just a drop in lunch.  My four year old daughter and I visited on a Friday afternoon and both loved it.
First we ordered our tea…well, I ordered my tea.  Because I do love black teas, I decided on English Breakfast.  My daughter opted for hot cocoa.
Next, we headed to the back of Mrs. Teapots to select hats, gloves and scarves.  What's a tea party without dressing fancy?  Mrs. Teapots Tea Room has racks and boxes full of big fancy hats, delicate buttoned gloves and lovely scarves.  My daughter loved this and it took quite a while to select her hat.
The back room, where the accessories are displayed, has a big dining table to accommodate larger parties.  While we were there, several people called to make reservations for birthday parties and High Tea.
After we were properly dressed, we sat down to enjoy our drinks.  My little princess insisted on marshmallows for her hot cocoa, and was brought a bowl full of the tiny puffs!  Her cocoa was in a small teapot and our server poured her drink.  It was such an experience for her.  We had beautiful teacups and saucers, as well as our own teapots to refill our drinks.  My daughter even had a cup of ice, because her cocoa might be a tad hot.  What a thoughtful touch!
What about our meal?  I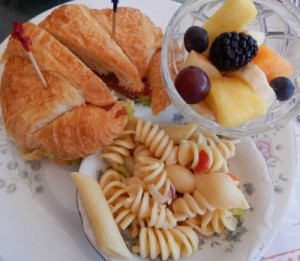 t was delicious!  Check out their menu HERE.  One of the most popular items on the menu is the chicken salad, so I ordered that.  It came on a croissant with fresh fruit salad and pasta salad.
My daughter ordered a grilled cheese, pretzels and fruit, but she mooched quite a bit of my pasta salad.  For dessert we shared a piece of homemade chocolate cake.  They had just baked it that day!  Another popular item on the menu is Grandma's Homemade Bread Pudding.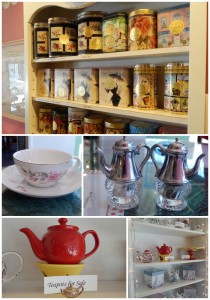 We just dropped in for lunch at Mrs. Teapots Tea Room, but if you want to try High Tea, reservations are required.  High Tea is served at 11:00am and 1:15pm Tuesday through Saturday.  Check HERE for more details on High Tea.  Private parties of 15 or more may make reservations for Sundays.
In addition to a lovely lunch and tea, Mrs. Teapots also has various teas, teapots, and teacups for sale.
If you decide to check out Mrs. Teapots Tea Room, park on the street and walk down Fairfield Avenue after your experience.  We headed to The Cozy Cottage after to look at doll clothing (they have lots of handmade Barbie Doll clothes and American Doll outfits) and then to Ball Embroidery to have a bag repaired.
When not blogging for Family Friendly Cincinnati, you can find Michelle writing at her personal blog, I'm Living the Good Life.