Artists of all ages are invited to submit their artwork  to the Cincinnati Library Comic Con drawing contest. Artwork that relates to comic books, graphic novels or manga can be entered between March 1-31 at any branch of the Public Library of Cincinnati and Hamilton County.
Entrants should submit their black & white or color drawing or painting no later than Monday, March 31. Artwork should be no larger than 15-by-20 inches (no digital submissions or computer images will be considered) with an entry form. There is a limit of one entry per person. Entry forms are available at all Library locations and www.cincinnatilibrary.org/news/2014/comiccon/. Submitted drawings will be available for pick-up after May 15.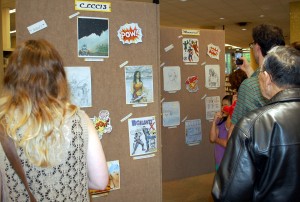 Winners of the drawing contest will be recognized during an awards ceremony held at the Main Library during the Cincinnati Library Comic Con May 10. First-, second-, and third-place winners and five honorable mention winners will be selected from adults ages 18 and older, teens ages 13-17, and kids ages 5-12. First-, second-, and third-place adult and teen winners will receive an autographed comic book and a gift certificate to Arcadian Comics and Games. First-place kids' contest winners in Division 1 (ages 5-6), Division 2 (ages 7-9), and Division 3 (ages 10-12) will receive art supplies. Winners' art will be on display in the Popular Library and posted on the Library's Flickr page.