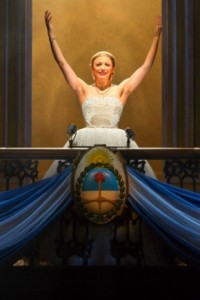 Tuesday evening Family Friendly Cincinnati attended opening night for EVITA at the Aronoff Center.
It was spectacular.
This musical takes place in 1934-1952 and is based on the true story of Eva "Evita" Peron, who grew up in the slums of Argentina, and works her way to Buenos Aires and eventually marries General Juan Peron, becoming the wife to the President.  When she first started dating General Peron, Argentina sees Eva as his 'lady of the moment' and does not like her.  Eventually, she wins over most of the country.  The people look up to her because she is very glamorous, gave generously to the poor and was a model representative when visiting other nations.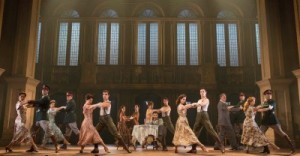 Caroline Bowman as Eva Peron was amazing.  She used her beautiful, yet powerful, voice to tell the story of Evita and express her emotions.  One of my favorite numbers was "Buenos Aires", during which Eva sings of her desire to go to the big city and then finally arrives in town.  The crazy and bustling atmosphere of the big city is portrayed perfectly by the cast, as it is the sensual atmosphere in Buenos Aires.  I loved listening to Bowman sing "Don't Cry for Me Argentina" from the balcony to her people, wearing a glamorous, white, full length gown and jewels.   Bowman seems to never tire and portrays the First Lady of Argentina with just the right amounts of sass and confidence, with a hint of manipulation.
Josh Young as Che also had never ending energy and a strong voice.  It amazed me that he sounded just as powerful at the end of the show as he did in the beginning…after singing in so many numbers.  He did a fantastic job expressing his distaste for Evita, but at the same time seemed to admire her.
Here's what Broadway in Cincinnati has to say about EVITA:
Tim Rice and Andrew Lloyd Webber's Tony Award®-winning musical returns at last! Eva Perón used her beauty and charisma to rise meteorically from the slums of Argentina to the presidential mansion as First Lady. Adored by her people as a champion for the poor, she became one of the most powerful women in the world — while her greed, outsized ambition and fragile health made her one of the most tragic. EVITA tells Eva's passionate and unforgettable true story, and features some of theater's most beautiful songs, including "Don't Cry for Me Argentina," "Another Suitcase in Another Hall" and "High Flying, Adored."
Evita is playing now through March 2nd at the Aronoff Center in Cincinnati.  Be sure to check out show times and more details at Broadway in Cincinnati.  Both my husband and I give EVITA two thumbs up.
Disclaimer:  I was given two complementary tickets to the opening night of Evita in exchange for promotion and review.  All opinions are my own.
All photo credit goes to Richard Termine.
When not blogging for Family Friendly Cincinnati, you can find Michelle writing at her personal blog, I'm Living the Good Life.