Are you looking for a restaurant where you can get a delicious meal made from scratch with fresh, locally sourced ingredients?  Incline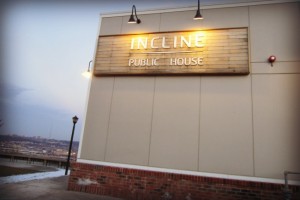 Public House in Price Hill is a perfect place to find burgers, sandwiches, pizzas and more, all made with fresh, locally sourced ingredients.  And the view from the Incline Public House is incredible!
Incline Public House sits atop Price Hill overlooking Cincinnati, at the site of one of Cincinnati's Inclines of years ago.  The menu offers a story and images to show you the history of the Price Hill Incline.  I felt like I got a little history lesson during dinner.  I find our local history to be fascinating, so I loved looking at the pictures of the inclines of long ago.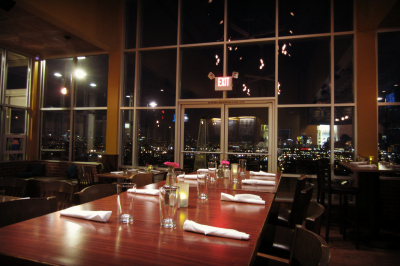 You can enjoy your meal inside the Incline Public House's gorgeous dining room that boasts a wall of windows for taking in the view, or if the weather is warmer you can dine on the patio overlooking the city.  I was so distracted throughout our meal by the magnificent view that I kept finding myself gazing out the window.  We arrived at the restaurant while it was still daylight but when we left it was dark and the lights of the city were aglow.  Here's a few snapshots of our view: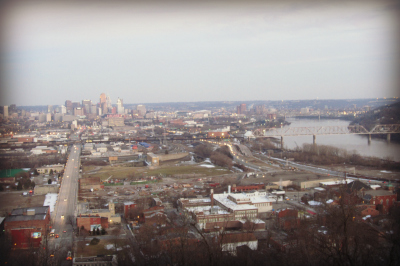 The interior of Incline Public House is warm and inviting, especially on cold evenings like we've had lately.    From our seats we could see into the kitchen where all the action was, and we could watch the pizzas being made in the grill right behind the bar.  Our server was very friendly and helpful in navigating the menu and craft beer list.   I always love having a server who will make good recommendations for what to eat, and who knows their beer.   IPH has a great collection of craft beers to choose from.  Several of my favorite local brews were on tap, which made me happy.  They also have bottled beer choices, wine, signature cocktails and soft drinks.
The menu at the Incline Public House is intriguing.  That's the best word I can come up with to describe the offerings at this gastropub.  They offer typical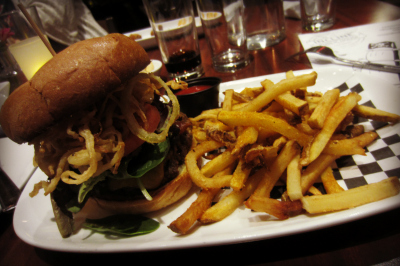 "pub" foods, but with a twist, and with some unique options you just don't see every day.  Some of their offerings include fried frog legs, a braised short rib grilled cheese, a "garbage" pizza, lamb burger sliders, and more.  These were just a few of the things I considered eating that night.  After much internal debating I settled on their burger, because I had heard great things about it, and I was not disappointed, it was delicious!  I also shared a couple of appetizers with my friends that were tasty…bruschetta and fried stuffed olives.  I don't even like olives, really…but deep-frying and adding goat cheese can fix any food in my opinion.  I really liked these deep fried olives!  I surprised myself.  As I mentioned already, almost all of the food at the Incline Public House is made from scratch, right there in their kitchen.   They offer gourmet sandwiches, interesting pizzas (or create your own), soups, salads and more.  The food menu and the beer menu change from time to time, so you never know when you'll find something new to try.  Eating at IPH is a treat for your taste buds, and it's a great time to get out of your comfort zone and try something new and interesting (ahem, like me and the deep fried olives).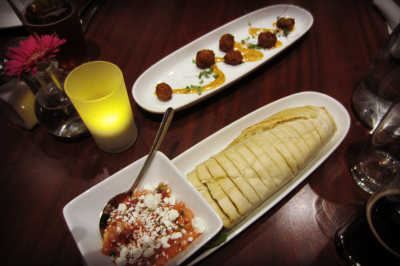 Incline Public House welcomes children, they have high chairs, and a great kids menu.  When I went it was with my girlfriends though, and I envision my next visit being a date night with the husband.  I think the kids would love going, especially given the great view, but I'm going to wait to take them until the weather warms up so we can get outdoor seating and they can get the full effect.  I've heard that IPH can get crowded on the weekends, the place isn't very big, and they do not take reservations, so you might have a wait if you go on a weekend evening.  We went on a Monday night (and it was a holiday) and there was plenty of seating available.  Even if you do show up and there's a wait you can always stop at the bar for a drink while you wait, or there was a small pavilion with benches next to the restaurant where you can sit and enjoy the view while you wait.
Incline Public House's Kid's Menu ::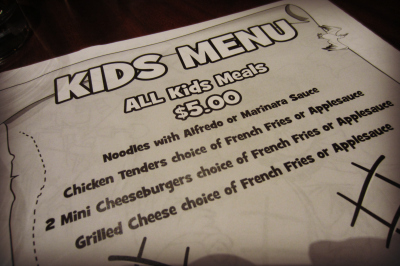 The Incline Public House is located at 2601 W 8th Street  Cincinnati, OH 45204  513.251.3000 You can find more information about IPH on their website and their Facebook Page.  Incline Public House opens at 4pm Monday through Thursday, and they open at 11am on Fridays through Sundays.  They also serve brunch on Sundays from 11am until 2pm.