If you have a sweet tooth and are looking for a delectable cupcake, look no further than Abby Girl Sweets Cupcakery.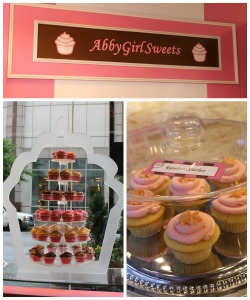 Downtown Cincinnati is a bustling place full of great places to shop, dine and enjoy entertainment.  While you are downtown one day (soon!) be sure to stop by Abby Girl Sweets, located on Fifth Street in the Carew Tower, near the Netherland Plaza Hotel to satisfy your sweet tooth. 
I discovered Abby Girl Sweets Cupcakery last Spring, when my cousin and I took a walk  from Covington, over the Suspension Bridge and then to Fountain Square for a chance to let the boys run around a bit.  We felt like a walk with three toddler boys deserved a reward so we walked over to Abby Girl and got ourselves a sweet treat.  We were both impressed with the beautiful and delicious cupcakes.  The cupcakes they sell are so flavorful (and sooo many flavors to choose from!), moist and perfectly sized with the perfect amount of frosting that is applied by hand, not too mention how asthetically pleasing they are.  Who can resist a cute cupcake?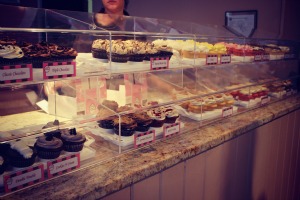 Abby Girl Sweets Cupcakery is a my favorite kind of business…family owned.  The owners, Andrea and Nathan Thompson,  named their cupcakery after their daughter, Abby.  The cupcakes they sell in their shops are all made from scratch with top-notch ingredients, and this is evidenced by how absolutely amazing their cupcakes taste.  And I can say with authority the plural "cupcakeS" because I tasted numerous cupcakes just to be sure before writing this post.  The problem is, when I go in Abby Girl Sweets Cupcakery I just cannot make up my mind!  There are so many tantalizing options.  So I generally get several different flavors "for the children" and taste each one of theirs before giving it to them.  I'm sure by now they probably think that Abby Girl Sweets sells cupcakes with a bite already taken out of them.  Bad Mommy.  Or Smart Mommy…you decide.
I mentioned the flavors already, but I feel it important to mention again how fabulous they are.  Here are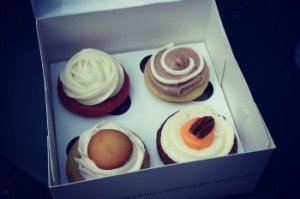 some of the flavors they offer:  Strawberry Blast, Banana Pudding, Peanut Butter Cup, Carrot Spice Cake, Vanilla Bean, Lemon-Licious, Triple Chocolate, Cookies and Cream and MORE.  I don't have a favorite.  I really have loved every one that I've tried.  What I especially liked about the Strawberry Blast was that they use real strawberries, so the flavor didn't taste like artificial strawberry flavoring.  And the Peanut Butter Cup was outrageously delicious.  I could go on and on.  Be sure to visit their website for all of the flavors, and follow Abby Girl on Facebook as well so you will know what their flavor of the week is.  It's always something interesting!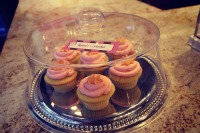 Abby Girl Sweets Cupcakery is conveniently located at 41 West 5th Street in Downtown Cincinnati.  Next time you find yourself downtown whether it be for work or play stop by and treat yourself to one of Abby Girl's amazing cupcakes!  Check out the Abby Girl Sweets Cupcakery website and Facebook page to keep up with all of the specials, new flavors, weekly cupcake menus and more!  Abby Girl Sweets Cupcakery also has a location in Blue Ash at 4773 Glendale Milford Rd.
When not blogging for Family Friendly Cincinnati, you can find Katie writing at her personal blog, www.thelittlethingsjournal.blogspot.com.