Who doesn't love Chipotle? The menu options and mean that you can find something for everyone, and they can customize it to their tastes.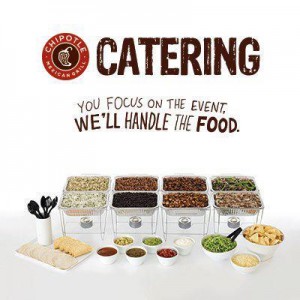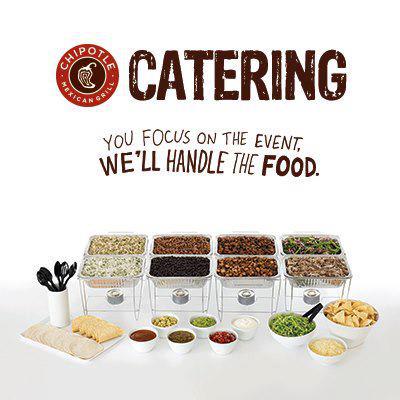 You can now bring the ease of customizing burritos or tacos to your next event because Chipotle is bringing their catering service to Cincinnati. Chipotle catering is perfect for your next party or office event of 20-200 people. The Taco and Burrito Bowl Spread includes two or three meats and comes with sides including cilantro-lime rice, pinto beans, fresh salsas, house-made guacamole, cheese and sour cream. There is also a snack option that includes chips and salsa, hand-mashed guacamole, fresh tomato salsa, roasted chili-corn salsa, tomatillo-green chili salsa, and tomatillo-red chili salsa. Set up is easy and includes everything needed for serving. There's also an option for parties of 6 or more.  Chipotle offers "Burritos by the Box" which allows customers to mix and match their burritos.
To order Chipotle catering call 800-CHIPOTLE(2-447-6853).  Orders must be placed at least 24 hours ahead of pick-up time. Catering customers who return their serving stands to Chipotle will be given a free entree card.
***GIVEAWAY***
Here comes the Giveaway! One lucky FFC reader will win free catering for 20 people from Chipotle. Use it for your next party, or as an excuse to have one.
All you have to to do to enter is comment below and let us know what your favorite burrito combination.

For additional entries do one, or all, of the following  (and leave a separate comment for EACH entry in the comment section below to be entered):
Sign up for our Enewsletter: http://eepurl.com/bxdIb
Check out Family Friendly Cincinnati and Chipotle on Facebook
Check us out on Pinterest: http://pinterest.com/FamFriendlyCin
Tweet about this giveaway, including: @FamFriendlyCin and @ChipotleTweets
That's it!  That's FIVE ways to enter which means FIVE chances to win!  The winner will be drawn at random and announced on Friday, January 24. We will stop taking entries at 2pm. Contest is open to Tri-State residents only, and you must be at least 18 years of age. Winners will have 24 hours to respond or another winner will be drawn.  
Disclosure: Prizes in the giveaway were provided by Chipotle.