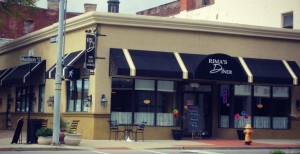 Some call it Rima D's, others call it Rima's Diner II, but whatever name it goes by, Rima's  in Covington is back in action after being closed for a  few years.  Rima D's  is  the perfect place to grab a tasty home-cooked breakfast or lunch in Covington.  The original Rima's Diner is in Crescent Springs.  Rima D's in Covington is a little sister to the Crescent Springs restaurant.  They are open for lunch during the week, and for breakfast and lunch on the weekends (Monday-Friday 10:30-3:00pm; Saturday/Sunday 10:00am-3:00pm).
Here's a little description about Rima's Diner in Crescent Springs from their Facebook Page:
Rima's Diner is a spin-off of The Porch restaurant in Russell Springs, Kentucky, located in the Lake Cumberland area. Rima moved from Northern Kentucky to Russell Springs in 1992 and opened the The Porch in 1995.
Lake Cumberland attracts over a million tourists each year from many areas including Lexington, Northern Kentucky, and Cincinnati. Due to the overwhelming positive response to Rima's home-cooked food, homemade desserts, service, prices, and atmosphere, she decided to bring the same home-style dining to her hometown, Crescent Springs, Kentucky, and call it Rimas diner. She opened the store on February 16, 2004.
Rima's best friend, Connie Miller, a local of Jamestown, Kentucky manages The Porch Restaurant. So, the next time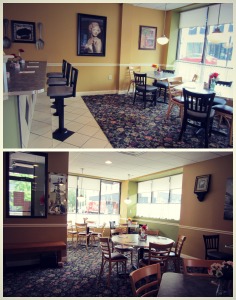 you're down in that neck of the woods, tell Connie, "Rima Sent me" and she just might give you a piece of pie!
The inside of Rima's is comfortable, charming, and very neat & clean.  They have plenty of tables and seating, but the restaurant isn't so full of tables that it feels crowded.    I'm not a fan of overcrowded places.  It's nice and spacious, with lots of windows for people watching and to bring in natural light.  The people that work at Rima's are super-friendly and quick to get you what you need.  And they are good at steering you in the right direction when you can't figure out what to eat.  I'm notorious for having to ask my server to help me decide what to eat when faced with too many options that sound delicious.  Which is what happens whenever I go to Rima's.
The menu at Rima's Diner is chock-full of home-cooked goodness, from their signature sandwiches to catfish to burgers to soups and salads.  And each day Rima's has lunch specials you can enjoy such as pot pie or chicken and dumplings.  Or if fried bologna is your thing, they have that too!  The menu offers alot of variety and the prices are JUST RIGHT.  The first time I ate there with my sister and my youngest we started with fried pickles ($4.99) which Henry was still talking about weeks after our lunch.     He calls them "pickle french fries".  The pickle spears they use are breaded and fried to perfection.  My husband was quite surprised that I ate them because I'm not a huge fan of pickles, but there's something special about a fried pickle!  For my lunches at Rima's I've tried the Crispy Chicken Club and the Burger, both of which I am quick to recommend to others.  Sandwiches come with fries, and are priced very reasonably.  My sister tends to go for the specials, like Chicken & Dumplings and Chicken Pot Pie, both of which she raved about.  I think she has me sold, I want to go back soon for those dumplings…they looked like a perfect winter lunch!  Wait, have I mentioned the fried pickles?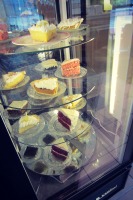 Ok, so I've mentioned how much I love the lunch food, now let me tell you about the sweet side of Rima's.  You can't miss the dessert case when you walk into Rima's.  It holds a place of honor right inside the front door next to the counter, and is filled from top to bottom with slices of beautiful hand-baked desserts.  Henry ordered the Peanut Butter Cream Pie during our last visit, and I had to sneak a few bites.  It was heavenly.  I was so full from lunch, but couldn't help but eat a bit of his pie.  So my advice to you if you go to Rima's is to save room for dessert, or take some home and eat it later!  The only trouble you will have is deciding which cake or pie to eat.  They have several to choose from, and they rotate them throughout the week, so you don't know what sweet goodness you will find on the menu when you dine there.
Rima's Diner a great place to have lunch with colleagues during a busy work week, or take the kids to lunch with friends.  And since they serve breakfast on the weekends you can stop by for brunch while you are running around doing all the "weekend stuff" that we all tend to do.  If you are a fan of good home-cookin' I highly suggest you find your way to Rima's.  I've not tried their Crescent Springs location yet, but I plan to, since I've heard good things about them as well.
Rima's 635 Madison Avenue in Covington Phone: 261-7800  Be sure to follow Rima's Diner on Facebook!