Boring school lunches are a thing of the past. Schools across the area are serving lunches that kids will eat that follow national guidelines. Jessica Shelly, MBA, REHS, RS, Food Services Director for Cincinnati Public Schools, tells us more about what CPS students are eating.
______________________________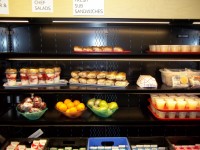 When was the last time you stepped into your kids' school cafeteria?  You might be surprised to see restaurant-style foods that students are served in healthy versions that provide the nutritional value parents prefer.
Thanks to new federal nutrition standards for school meals, students across Cincinnati can chose from a wider variety of healthy options to help fuel their success in school.
Serving 45,000 meals each day, more than any local restaurant chain, Cincinnati Public Schools Food Services offers both breakfast and lunch prepared fresh in your child's school each day.  Options for students are healthier than ever before and leading the way to teach students good eating habits at each grade level.
More than 90% of the breads and pastas served by CPS Food Services are whole-grain rich. This is in advance of the national requirement to provide all whole-grain rich foods in schools by the start of the next school year.
There are no fried foods, no trans fats and no added salt or butter to keep sodium and fat contents low.  But the flavors and options are abundant for students at every grade level!
Each school lunch in CPS includes access to a vegetable salad bar and fresh fruit is offered every day for lunch. School meal programs across the country must include weekly servings of fiber-rich legumes, vitamin-packed dark leafy greens and red or orange vegetables.
Schools have to cater to a variety of student food preferences – just think about how picky your kids can be at dinnertime and multiply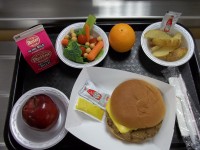 that by the thousands of finicky eaters served in school!
CPS Food Services offers seven entrees to secondary students.  Daily options include chef salads, sandwiches, wraps and vegetarian selections, all served with non-fat milk.
Menus include Asian-style Teriyaki Chicken served with Brown Rice Pilaf, Cincinnati 3 Way Chili on Whole-Grain Pasta, Oven Roasted Turkey Breast Chef Salad and Whole Grain BBQ Chicken Quesadilla.  For just $2, students choose among creative, healthy entrees that are served alongside choices such as fresh Gala apples, kiwi and orange quarters, sugar snap peas, fresh pears and steamed broccoli cuts.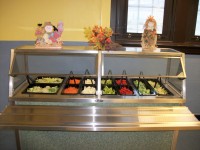 Through chef-inspired recipes, fresh fruit and vegetable programs and nutrition education initiatives, school nutrition professionals are encouraging students to try these healthy choices while teaching them the importance of a well-balanced diet.  Parents can get in on the fun by hosting dinner-time taste tests of the more unique produce options available in school cafeterias, like jicama and kiwi.  After all, students are far more likely to pick up a fruit or vegetable with their school lunch if they recognize the food from home.
Check your school cafeteria menu to learn about the choices available to your students and consider joining them for a school meal to see how school cafeterias have changed for the better.  CPS provides resources to help families build healthy habits in addition to offering details on school year menus, nutritional information and daily meal menus in a mobile-compatible Web format.  For more information visit
To find out more about national school nutrition updates, visit www.TrayTalk.org and join the conversation about school meals at www.Facebook.com/TrayTalk.