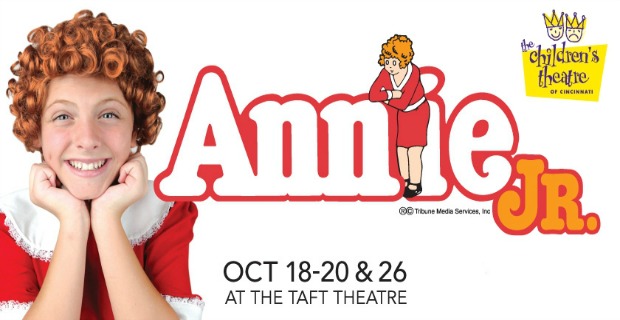 Every single show I have seen that has been presented by the Children's Theatre has been awesome, and I have a feeling Annie Jr. will be no exception!  This show is bound to be fun for the whole family, I've already started humming some of the songs in my head as I work on this post.
Just in case you aren't familiar with the show, here's a little bit about Annie Jr. ::
 Leapin' Lizards! The Children's Theatre of Cincinnati opens its 89th MainStage season with a production of "Annie JR." at the Taft Theatre October 18-20 & 26, 2013.  The popular comic strip heroine takes center stage in one of the world's best-loved musicals.  With equal measures of pluck and positivity, little orphan Annie charms everyone's hearts, despite a next-to-nothing start in 1930s New York City. She is determined to find her parents, who abandoned her years ago on the doorstep of a New York City Orphanage run by the cruel, embittered Miss Hannigan.
I think this show is going to have the audience leaving the show wanting to sing and dance!  I cannot wait to take my family!
Performances of Annie Jr. will be:  7:30 p.m. Friday October 18, 2 p.m. Saturday October 20 and Sunday October 26, 2 p.m. and 5 p.m. Saturday October 19 at the Taft Theatre (317 East 5th Street Cincinnati). The ticket prices are $7-$25.   You can get your tickets by calling 1-800-745-3000 or ordering online: www.ticketmaster.com. Visit www.thechildrenstheatre.com for ticket information.
Disclaimer: I received tickets to give away as well as tickets to take my family to see Annie Jr.   All opinions are 100% my own.