Fall is my favorite time of year.  Seeing the leaves change color, taking a brisk morning walk, selecting that perfect pumpkin, and enjoying a hayride with the family are a few of the reasons why I love this time of year.  Every year, we like to visit some local farms.  This year we added another wonderful farm to visit, Gorman Heritage Farm, and it's unique since the 122 acre farm resides in the Village of Evendale.  Driving down busy Reading Road, you'd never think that there would be a peaceful and beautiful farm just waiting for you to enjoy.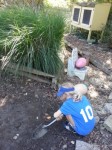 Gorman Heritage Farm is well worth a stop.  Your kids will love it.  You'll first go to the building on the right.  There is a welcome center desk and some very friendly helpers available with maps of the farm.  The farm has plenty to see and do.  There are beautiful gardens as well as a children's garden complete with mini wheelbarrows, shovels and an area for digging.  We then took a small hike up to the barns – there is a paved path and an unpaved path you can take. The farmyard area was delightful with plenty of animals to interact with.  You are able to enter the outdoor pen area to pet the goats.  There are also mules, pigs, a miniature horse, sheep, rabbits and lots of free-range chickens roaming around.  You may even see the farmyard cat, Isabelle, on duty.  There were also some really nice volunteers on site if you had any questions about the farm.  I took a picture of some sheep and in the distance you can see a subdivision of houses – what a beautiful view they must wake up to each morning.
Past the farmyard, we could also see a field full of beautiful Sunflowers.
Gorman Heritage Farm is also an educational farm and they offer many programs throughout the year. There are classes for kids and adults, school field trips, farm tours, cooking classes, garden classes and farm camps.  I also notice a large outdoor pavilion that would be the perfect place for a picnic lunch.  I hope you'll get a chance to visit this wonderful working farm one day soon.
Address: 10052 Reading Rd. Cincinnati, OH 45241 513.563.6663
Facebook
When not blogging for Family Friendly Cincinnati, you can find Kristin writing on her personal blog, MasonMetu (from me to you).