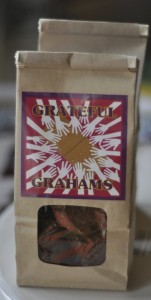 As children, our parents encouraged us each to follow our dreams. Be it to be a fire fighter, an astronaut or a veterinarian, our parents encouraged us to pursue a future that we were excited about. For working mom Rachel DesRochers, that dream was to one day own her own business.
Three years ago Rachel made the leap, and with one child still at home, and one is school, she launched Grateful Grahams, a small business that makes a variety of delicious, handmade vegan graham cracker treats.
We're big fans of these tasty treats and recently asked Rachel if she'd share a little bit more about her business and how it came to be with the readers of Family Friendly Cincinnati.
1. How did you come up with the idea for Grateful Grahams?
Grateful Grahams was created from my dream of owning my own business and balancing life as a mom. My childhood memories of graham crackers then tasting them fresh baked I knew I had a great idea. Dreaming big!!
2. Tell us about Grateful Grahams.
Grateful Grahams is a handmade vegan graham cracker. I love making a vegan product. Being aware of vegan lifestyles mainly from my dad who went vegan after a battle with cancer then now to me being vegan too! We make all of our products by hand, rolling approximately 4,000 graham crackers weekly by hand. The name came from truly believing and living a life of gratitude. Being grateful for my life and all the world around me. Teaching my kids about gratitude and my community too.
3. How do you come up with your flavor/product ideas?
We have our original and chocolate grahams. It took me 2 years to come up with another product. That is where our bites came in. We have an entire line of bites staple flavors including- peanut butter chocolate chip, trail mix and chocolate chocolate chunk! Seasonal flavors have included- pumpkin pecan spice, chocolate chili pepper, cornmeal lavender and spice bush berry!  My mom created our buckeye brownies and she comes in every Wednesday to make them all for the week. One of my favorite created recipes is our coconut delights and chocolate covered bourbon walnut bites!

4. Where can people find them? 
We are carried in stores from Park + Vine to Whole Foods Market. Right now we are in 4 Whole Foods Markets. You can get us at the Kroger in Latonia, Madison's at Findlay Market, Joseph Beth Booksellers. Coffee shops from Left Bank Coffeehouse, Blue Manatee Children's Bookstore and Decafe, Luckmans. We also ship right now to California, Michigan and Cleveland. We do 5 farmers markets a week (that is where you can mostly get our specialty items) Loveland, Northside, Madeira, Findlay and Hyde Park. We also do the Mariemont Market once a month.  You can order Grateful Grahams from their website, HERE
Offsite events coming include- Carriage House Farm Tours, Zoofari, Bluegrass for Babies, Makers Fair and more!  We love special orders too we have been doing a lot of birthday parties lately! View the Grateful Grahams calendar of events, HERE
5. Where can people get more information?
Find us for the most up to date information on Facebook at Grateful Grahams or visit www.gratefulgrahams.com (you can order direct and do special orders from our website!)