Five years ago Sandi Stonebraker, owner of Stoney's Gifts, All Things Princess, created the Wee Folk Fairy Fest in the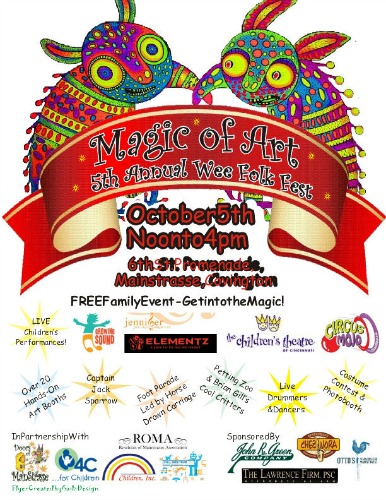 Mainstrasse Village.  Each year the festival has brought together families with their young ones to dance and play & have some fun!  This year the event returns with a brand new name, it is now known as the Magic of Art Festival, but you can expect the same great activities and entertainment PLUS some new things to see and do!  There will be several art activities for the munchkins, many live performances, helpful resources from Children, Inc. and 4C and costumes are HIGHLY recommended, so be sure to dig out those superhero capes and fairy princess dresses.  And best of all, this event is FREE!
My family has attended this event in the past, and we all had a grand time.  I like this festival because it encourages my children to be creative and use their imaginations.  I love that many of the children come in costume…it makes the event seem even more magical!  I'm excited about the addition of more hands-on art activities this year, and I'm eager to hear what the folks at Children, Inc. and 4C have to share about bringing art into the home.  I'm a HUGE fan of exposing my kids to the arts and encouraging them to be creative and artistic, so this festival is just perfect for my family.  And after we have our fun at the festival, I like finding somewhere to eat in the Mainstrasse Village, there are so many great restaurants down there!  Or perhaps we'll head over to the Candy Bar and grab some sweets.
The Magic of Art Festival will be held on Saturday, October 5th from 12-4 in the afternoon on the 6th Street promenade in the Mainstrasse Village.  Here are some of the great activities you have to look forward to:
More than 20 hands-on art activities
Dancers & Drummers
A visit from Captain Jack Sparrow
A foot parade for all of the fairies, princesses, superheros, knights, and other magical beings led by a horse drawn carriage
Clowning around with Circus Mojo
A visit from the Children's Theatre of Cincinnati
A Costume Contest AND Photo Booth!
A Petting Zoo
Musical Performances
And much MORE!