We have a new kindergartner in our house!  After two days of 'practice' in our Jumpstart program at school, we celebrated with a treat.  I asked the kids where they'd like to go…
Graeters?
McDonalds?
UDF?
No, they all said "We want to go to the place with the ice balls!"
At first I was a little confused.
"You know…the place by Julie's house?"
Ahhh, I remember!  Our friend, who lives in Bellevue Kentucky, took them all to Schneider's Sweet Shop last summer for ice balls and candy.  They loved it.
I love Fairfield Avenue in Bellevue and have passed Schneider's many times…ironically, on the way to the gym.  I enjoy hanging out at Avenue Brew for First Fridays, listening to some tunes by local bands.  I like to shop at the cute local stores up and down the street.  And, we love to eat at Pasquale's on that same strip!
Alright, let's go to Schneider's!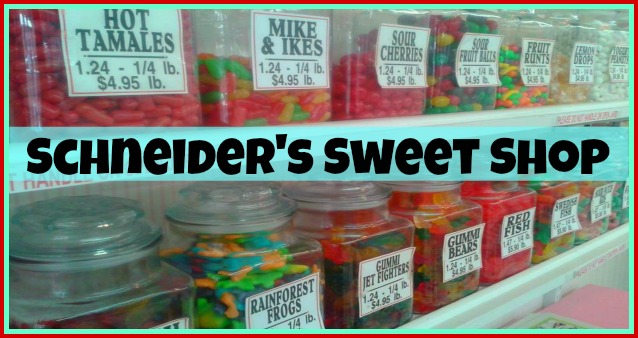 Schneider's Sweet Shop, located at 420 Fairfield Avenue in Bellevue is famous for "ice balls".  You can get a huge scoop of shaved ice, flavored with your choice of syrup.  You can even get ice cream with your ice ball!
In addition to delicious shaved ice and ice cream, Schneider's has rows of old fashioned candy in jars, that is sold priced by the pound, and lots of delicious homemade chocolates, also sold priced by the pound.
While there, the kids enjoyed blue raspberry ice cream cones, a blue raspberry ice ball, gummy tree frogs and gummy hamburgers.  I had a mint chocolate chip ice cream cone and two dark chocolate apricot crèmes.  Writing this makes me want another!
Walking into Schneider's is a step back in time to an old fashioned ice cream shop.  The shop is neat and clean with small tables and chairs in front of their glass cases filled with ice cream and candies.  The shop, colored mostly white, is accented with pops of bright color provided by the rows of candy in glass canisters.
Lucky for us, Schneider's is expanding!  They are taking over the now demolished space next door to add to their manufacturing process, and adding an outdoor patio area.  Next year they will celebrate 75 years of business.
If you have not yet visited Schneider's, be sure to stop by on your drive through Bellevue or Newport.  Park right out front and run inside for a delicious shaved ice and some candy for the road.
When not blogging for Family Friendly Cincinnati, you can find Michelle writing at her personal blog, I'm Living the Good Life.