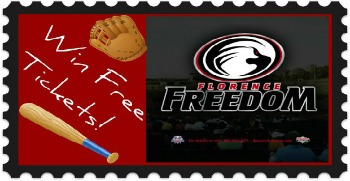 ****THIS GIVEAWAY IS NOW CLOSED****
Congrats to Sandra, Jessie, Kristen and Amanda, you are going to a ball game! Check your inbox in a few minutes, I'm getting ready to send you an email and will need to hear back from you within 24 hours!!!
Summer may be drawing to a close, but it's not over yet! One of the favorite summer-time activities of the FFC writers is to go to a ballgame! Lucky for us we have a few great teams to choose from in our area. One of which is the Florence Freedom team in Kentucky. The Florence Freedom ballpark is a great place to catch a game with friends. The prices are great, there's a playground for the kids, and lots of fun stuff going on at the games.
Lucky for us, we have a friend who is sharing FOUR sets of VIP vouchers (to exchange for tickets) to Florence Freedom games this season. Let me introduce to you Simon Heidrich from Four Seasons Tent Rental who is playing Fairy Godfather by sharing all of these ticket vouchers and is available to meet all of your tent-rental & party needs. Simon started his tent business in 2003 and has worked tirelessly to make a good name for himself and to expand his business so that now he's not just renting tents, but chairs, tables, dance floors, staging & linens. So for your next party this summer consider Four Season Tent Rental, they will set you up with everything you need to enjoy your day! Backyard BBQ? Father's Day Bash? Fourth of July Fireworks Party? Graduation Celebration? Church Event? Weddings? Showers for babies or for brides? A tent can make any party into a spectacular event!
Here's the deal…
We have FOUR sets of ticket vouchers to give away (Four vouchers in each set). We will draw FOUR random winners on Friday, August 9th at 2pm. The winners will be announced here on the blog and on Facebook. You have 48 hours to contact us via email or another name will be drawn. Once you email us we will mail you 4 vouchers which you will need to take to the Florence Freedom box office to trade for tickets to the game of your choice. It is always best to trade these vouchers sooner rather than later to ensure you get seats to the game you want to see, especially since their season is ending the first week of September . Best of luck!
HOW TO ENTER: Simply answer question number one below. Additional items are bonus entries. Leave a separate comment on this post for each one you complete. A total of five entries are possible.
Question 1: Why do you want tickets to a Florence Freedom Game?
Bonus Entries
Good luck!
Disclaimer: In exchange for this giveaway, I received tickets for a Florence Freedom game from Four Seasons Tent Rental. All opinions are 100% my own.