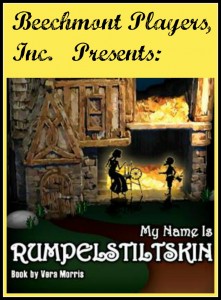 My family and I have been into fairy tales lately, owing in large part to the show Once Upon A Time that airs on ABC.   Yes, they take those old tales that I knew and loved growing up and give them a twist making them far different from the tales of my own youth, but it does get my kids interested in those old tales and for that alone I would be hooked.  We all have our favorite characters, of course, but the one we all agree on is the character of Rumpelstiltskin.  He's tricky, he's got fun magic tricks up his sleeve, he can spin straw into gold…what's not to love?  So I was super excited to hear that a local community theater company, Beechmont Players, Inc., is performing My Name Is Rumpelstiltskin this season.   What a great show to share with my kids!
Beechmont Players, Inc. is a volunteer community theater organization located in the Anderson area and serving the eastern section of Greater Cincinnati beyond the Little Miami River.  With more than 100 members, this non-profit corporation donates its time and talents to bring live theatre to the nearly 200,000 residents in the area.  This is their 6th full season as the Arts Organization in Residence at the Anderson Center and their 54th year of presenting quality community entertainment in the area.
With My Name Is Rumpelstiltskin, Beechmont Players' summer children's production, they bring a touch of fairy tale land to our little corner of the world.  Here's a little about the show from Beechmont Players, Inc.:
To become the most powerful force in the kingdom, the wizard Rumpelstiltskin must possess a child of royal birth. He spreads the word that the miller's daughter can weave straw into gold. Since the kingdom is bankrupt, she's whisked off to the palace and ordered to spin. With Rumpelstiltskin's help, she delivers the gold. When she marries the prince and has a baby, she has 24 hours to guess the wizard's name or lose her child.
Will the miller's daughter be able to thwart Rumpelstiltskin?  There's only one way to find out…grab your ticket and get ready for My Name Is Rumpelstiltskin!
WIN WIN WIN
Family Friendly Cincinnati is teaming up with Beechmont Players, Inc. to send a lucky family of four to see My Name Is Rumpelstiltskin during it's run.   This is a quick turnaround giveaway so don't delay…winner will be drawn THIS FRIDAY, August 2, at Noon!
To enter, just answer this simple question:
Which fairy tale character do you most relate to?
Feel like you create something out of nothing much of the time (what parent doesn't!)…then it might be Rumpelstiltskin.  Feel like there's a wicked witch out to get you most days?  Then maybe Snow White…or Hansel and Gretel?   Tell us which fairy tale character you'd most like to meet and have coffee with and you are automatically entered to win!
For additional entries do one, or all, of the following (and leave a separate comment for EACH entry in the comment section below to be entered):
Giveaway will run through Friday, August 2 at Noon. You must be 18 and a resident of the Greater Cincinnati area to win. Once announced winners will have 24 hours to respond and claim their tickets or a new winner will be drawn.  Please leave a separate comment IN THIS POST for each entry. Winner may choose the date and time of performance, tickets to be made available at Will Call at the Anderson Center the day of the show.  Winner will receive 4 tickets to one of the following performances:
8 p.m. Friday, August 2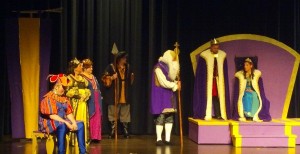 3 p.m. Saturday, August 3
8 p.m. Saturday, August 3
3 p.m. Sunday, August 4
8 p.m. Friday, August 9
3 p.m. Saturday, August 10
8 p.m. Saturday, August 10
Beechmont Players, Inc. perform at the Anderson Center located at 7850 Five Mile Road in Cincinnati, Oh.  For information on future productions, tickets, show times, and more please visit their website at www.beechmontplayers.org.
disclosure:  Family Friendly Cincinnati was given a set of tickets to enjoy the performance, as well as a set to give away, in exchange for sharing information with our readers.  All opinions are 100% our own.
When not blogging at Family Friendly Cincinnati you can find Amy Q. writing at her own blog: w

ww.in-a-galaxy.blogspot.com.