Congratulations, you made it through another week, and to reward you, we present you with a fun-filled weekend with the family!  Check out this list of things going on around town and start scheduling your family fun for the weekend!
Friday ::
Froyo and Face Painting    Fridays until August 30 | 6:30-8:30 p.m.    Kocanut Joe's     https://www.facebook.com/KocanutJoes    Kocanut Joe's Frozen Yogurt    FREE     Froyo & Face Painting Friday's  Every Friday up through August 30th Kocanut Joe's will have FREE face painting available from 6:30-8:30 p.m.  (First come, First served and the last painting will begin at 8:15p.m.)
Family Summer Fun- Movie Night at Smale Park    July 26,  7-9pm Movie Starts at 9pm    Cincinnati Parks    http://www.cincinnatiparks.com/    Smale Riverfront Park    Free, all ages    Dr. Seuss'  The Lorax; Cincinnati Circus performers at 7pm–9pm Movie at 9pm
Final Friday     The last FRIDAY of each month ~  6-10pm    Cincinnati Arts    Pendleton Art Center  1310 Pendleton Street in Cincinnati    FREE    The Pendleton Art Center is home to the world's largest group of artists under one roof.  Over 200 artists come together at PAC to work and to show their masterpieces.  There are 8 floors of studios to browse, as well as the Studio at 510, the Annex, and the Cafe Studios.  Final Fridays are a fun celebration for the whole family!
Art After Dark: Cincinnati Food Celebration    Friday, July 26th fro 5-9 PM    Cincinnati Art Museum   953 Eden Park Dr.    FREE (food tickets and cash bar extra)    We hope you can join us on Friday, July 26th for this special Cincinnati Summer Art After Dark: Cincinnati Food Celebration. This is a FREE event with cash bar. $10/ticket for 10 tastes of chili and/or beer. Reservations not required. Cincinnati favorites THE TILLERS will be performing!
Saturday ::
Art in Action    Last Saturday of the Month 11am – 3pm    Pendleton Arts Center    1310 Pendleton Street, Cincinnati, Ohio 45202    Free    Art in Action takes place the Saturday after Final Friday from 11am-3pm. It offers the public a chance to meet artists, view and purchase their artwork, attend lectures, live demenostrations and FREE interactive classes.
Family Saturdays ~ Fourth Saturday of the Month  1pm – 4pm    Contemporary Arts Center    http://contemporaryartscenter.org/    44 East Sixth Street  Cincinnati, Ohio  45202    Members: Free, Non Members: included with CAC Admission    "Family Saturday is a program for CAC families that uses current and upcoming exhibitions to inspire learning and creativity through guided artmaking activities. Family Saturday is the fourth Saturday of each month from 1-4 pm. An artist joins families in creating art projects in the UnMuseum®. Check the CAC calendar for specific Family Saturday events.  To read more about the UnMuseum at the CAC read this post by Katie S.  This program is designed for children ages 5-105 and their caregivers."
SOG Summer: Bugs ~ 1:30-3pm 5+ $20 Brazee Street Studios www.brazeestreetstudios.com 426 Brazee Street, Cincinnati, OH 45209  Young artists will use "frit paint" and accessory glass to decorate fused glass bugs with wire legs. Students will create 5 unique glass bugs of their own design in this introductory level class.
Wipe Out    July 27, 2013 1 p.m.    Kenton County Public Library    www.kentonlibrary.org    Durr Branch Library – 1992 Walton-Nicholson Road, Independence    Free    Wipe out at the Library! Participate in splish-splashy fun. Children must wear shoes during the entire program. You WILL get wet! Registration needed at www.kentonlibrary.org/events
Beast Bash    July 27, 2013 10am-4pm    Various sponsors    www.beastbash.com    Pioneer park 3950 Madison Pike Covington    FREE/$5 parking donation    A celebration of pets and their people!  Pets, vendors, ask-a-vet, contests, silent auction, beast pool, kids activities, canine demonstrations. Well mannered dogs welcome. Retractable leashes prohibited.
ManaTots at blue manatee    Saturdays  9:30am     blue manatee children's bookstore and decafe    www.bluemanateebooks.com  3054 Madison Road Cincinnati, OH 45209 Free, children up to age 4    Stories, songs and fun
Kids Drink Free at BIGGBY COFFEE!     Saturday, July 27 all day    Ft. Mitchell BIGGBY COFFEE    https://www.facebook.com/Ft.Mitchellbiggby    2498 Dixie Hwy., Ft. Mitchell, KY 41017    FREE!    "Come and beat the heat with us by cooling off with a yummy treat your kids will love. Ft. Mitchell BIGGBY COFFEE will be offering free tall Magic Milk's on Saturday, July 27th. Magic Milk is caffeine free drink that comes in a variety of flavors including chocolate, strawberry and vanilla, all topped with whipped cream and sprinkles!
Chuck Wagon Dinner Ride    Saturdays  June, July, August & Labor Day Weekend, 2013, 5:00pm – 9:00pm    Bonnybrook Farms    www.BonnybrookFarms.com    Bonnybrook Farms 3779 State Route 132, Clarksville, OH  45113    Adults $30.; Children 4-12 $17.; 3 & younger free    A Chuck Wagon Dinner Ride offers a FUN evening of GREAT food and camaraderie for families, friends and groups of all sizes. Enjoy the outdoors and some 'Fun on the Farm' activities. When the dinner bell rings, enjoy a barbecue meal of hickory smoked pulled pork and chicken and farm fresh, locally grown salads and sides.  After dinner, board the wagon for a ride to Todd Fork Creek. At the old chuck wagon, choose from fresh baked desserts then gather 'round the campfire to roast s'mores.
Sunday ::
The Village Vintage and Art Bazaar on July 28 along the Sixth Street Promenade in MainStrasse Village, Covington, KY. Purveyors of antique, vintage, and repurposed items as well as local artists will be showcased along the Sixth Street Promenade for browsing, buying and enjoying on the fourth Sunday of each month. www.mainstrasse.org
All Weekend Long ::
St. Margaret of York Festival ~ July 26, 27 & 28th ~ 9483 Columbia Rd., Loveland, OH 45140~ The bands will be Brent James on Friday night, Rusty Griswolds on Saturday night, and Second Wind on Sunday. You can find more information at: http://www.smoyfest.org/
Farmers Markets :: There are a multitude of wonderful Farmers Markets around town that you can visit for fresh, local, delicious foods, flowers and more! Check out this post for a list of markets in Cincinnati & Northern Kentucky. Find one in your neighborhood, or visit a new neighborhood market!

Are you opting for a STAYcation instead of a vacation this summer?! There are so many fun things to do around town this summer…which will save you big bucks on gas! Our own wonderful region has so much to offer, here's a few of our favorite places around town to enjoy on your "staycation" :: http://familyfriendlycincinnati.com/2013/05/21/taking-a-cincinnati-staycation-draft/
FREE MOVIES!!! Many neighborhood parks are offering FREE outdoor movies this summer! Check it out: http://familyfriendlycincinnati.com/2013/05/23/2013-free-summer-movie-nights-across-cincinnati/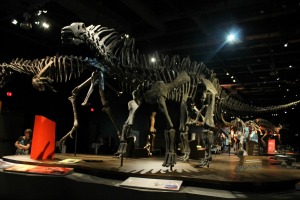 Don't miss the Ultimate Dinosaurs at the Cincinnati Museum Center! Read all about them here: http://familyfriendlycincinnati.com/2013/06/20/ultimate-dinosaurs-giants-from-gondwana/And don't forget, Members can pay ONCE to see the dinos at a discounted rate, and then get in free over and over again for the duration of the exhibit!