I've always enjoyed yoga.  When I found Moksha Yoga, a studio dedicated to yoga, I was excited.  I had taken classes at the gym, but it is not the same as taking a class from a yogi who has been trained specifically in this art.  Plus, the entire studio at Moksha Yoga is peaceful, relaxing and 'green'.  The facility is energy efficient, uses green cleaning products and makes use of many recycled materials.
It is very different than walking off the weight room floor, or cardio theater, into a tiled exercise room to do yoga to new age music with strains of gym music in the background.  Attending a class at Moksha Yoga is a peaceful and rejuvenating experience from the moment you walk in the door and take off your shoes, to the final 'Savasana' of your practice.
According to Moksha Yoga Northern Kentucky, hot Moksha yoga "stretches, strengthens and tones the muscles while detoxifying the body and calming the mind."
I started with a class once a week and even that 75 minutes left my mind feeling calmer through out the week and my body leaner.  Trust me.  I have three crazy kids.  That yoga class helped keep me sane!  The hot class is also fantastic for your skin.  Moksha Yoga also offers classes for kids and expectant mothers.
Check out the different types of classes and corresponding schedules on the Moksha Yoga Northern Kentucky or Cincinnati websites.
Speaking of kids, my younger two (ages 6 and 4) loved the kids class.  They learned basic poses while I attended an hour long yoga class in the next room.  My 6 year old even stopped in the parking lot after to lay on the sidewalk and show me his favorite pose.  The Northern Kentucky location offers classes for younger kids, while older ones may take classes at the Cincinnati studio.
The two locations, Northern Kentucky at 2428 High Street off Buttermilk Pike, and Cincinnati at 3527 Columbia Parkway, offer a variety of classes, some of which include:
glow in the dark yoga
hot yoga
prenatal yoga
yoga with music
kids yoga
non-heated yoga
Ashtanga/Vinyasa
And, in less than a week, Moksha Yoga opens their third location in Clifton!
The wonderful folks at Moksha Yoga are offering a free month of yoga for one adult and one child (as a package deal) for one lucky reader of Family Friendly Cincinnati.  That means, if you win, you could go to yoga classes as often as you want for one month.  And, you can take one child with you to the kids classes for that entire month.
Rules: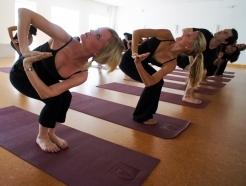 Must be 18 years of age to enter and live in the Northern Kentucky/Cincinnati area.  Please leave your email address in the comment with your entry.
You have three possible entries to the contest.  Each comment you leave on this blog post will be an entry, so make sure you leave THREE separate comments.
Do not leave your three entries in one comment.  Please leave your email address in your comments so we may contact you.
~~WIN WIN WIN~~
Entry #1:  Tell me why you want to win a month of free yoga for you and a child in a comment.
Entry #2:  Leave a comment telling me your favorite yoga pose.
Entry #3:  Share this giveaway on facebook, twitter, email, phone, or where ever and leave a comment that you did so.
One winner will be drawn on Tuesday July 30th at 10:00pm.  That winner has 48 hours to respond or another will be chosen.
Want another chance to win?  Check out Katie's blog The Little Things Journal.  She has also a contest going on right now!
Good luck and Namaste!
When not blogging for Family Friendly Cincinnati, you can find Michelle writing at her personal blog, I'm Living the Good Life.
Disclosure:  In exchange for this review and giveaway, I received one month of free yoga for myself and children.  Rest assured, all opinions are my own.