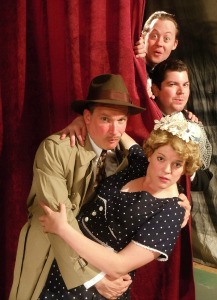 The writers of Family Friendly Cincinnati had the wonderful oppurtunity to visit the Cincinnati Shakespeare Comany to see their newest production, The 39 Steps.  Thanks to  ArtsWave  for inviting us to this media preview, we loved it!  If you've been looking for a fun time for a date night or night out with the friends, look no further than the Cincinnati Shakespeare Company's The 39 Steps.  This show was downright hilarious, we were all laughing uproariously throughout the show.  The actors are supurb, mind you there are only four of them, but together they play over 100 different parts!  You have to see it to beleive it.  The plot is full of intrigue and comedy, which is an
interesting pairing, but The 39 Steps pulls it off!  I really enjoyed myself immensely, it was a fabulous night with the ladies, and I might even go back to see it again with my husband for a date night, because I think he'd love it as well.
Here's a bit more about The 39 Steps from Cincinnati Shakespeare Company ::
This runaway Broadway hit lands at CSC this summer. Alfred Hitchcock's classic potboiler gets a tongue-in-cheek twist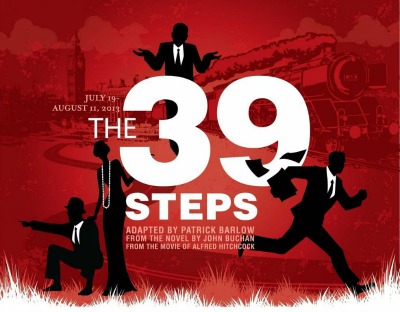 as four actors rocket their way through over 100 roles in a blood-tingling, and hilarious, tale of espionage and murder. Cincinnati audiences have raved about productions of "Every Christmas Story Ever Told" and "The Hound of the Baskervilles" that also feature small casts covering multiple characters in mystery-comedy adventures. They will not be disappointed by "The 39 Steps". It'll be an evening of comedy…to die for.
The 39 Steps is playing at the Cincinnati Shakespeare Company, located at 719 Race Street, Downtown Cincinnati.  The show runs until August 11, 2013 with shows on Thursday-Saturday at 7:30pm and on Sundays at 2pm (with the exception of Sunday July 21).  To purchase tickets or for more information, call the CSC Box Office at 513.381.BARD (2273) ext. 1, or visit the Cincinnati Shakespeare Company Website: at www.cincyshakes.com.  Don't miss this show!