What a month it's been so far!  First we're all trapped in the house making plans for building an Ark and the next thing you know you're sitting on a block of ice wondering how it's possible that your hair is sweating!  There doesn't seem to be an end in sight when it comes to the heat, however that doesn't mean you have to hold up in the house with your icepack and personal mister.  There's a ton of fun to be had around the area that is sure to take your mind off of the heat!
Icecream, frozen yogurt, parks and parties and fun!  We even have a couple of date night ideas for you!  Don't forget…you really want to enter to win our BB Riverboats Christian Moerlein Beer and BBQ Cruise.   Check out Katie's post and enter to win!
Here's the weekend in a nutshell…get out and enjoy!
Friday
Froyo and Face Painting ~

Kocanut Joe's

~ 6:30-8:30 p.m. ~ FREE
Every Friday up through August 30th Kocanut Joe's will have FREE face painting available from 6:30-8:30 p.m.  (First come, First served and the last painting will begin at 8:15p.m.)  What a great way to start the weekend!
DIY: Screen Printing ~

Artscapade

~22 N. Shaw Ln. Fort Thomas, KY 41075 ~7:00 – 9:00pm~ Tweens, Teens and Adults ~ $20
July 19 we will be screen printing away at the Art studio! Join the fun at 7pm and learn the amazing process of screen printing. From what happens when you burn a screen to pulling your own prints to take home and hang!  Click here to Register online now or call us (859)443-2496
Saturday
Rockin' Birthday Bash ~

Sawyer Point

~ Noon til 10 PM ~ $3 General Admission-Children 14 and Under are  FREE
Help celebrate Sawyer Point's 25th Birthday!  Bring the kids and have fun at the Kids Entertainment Zone: Cincinnati Circus performers, Armleder Sprayground, Inflatable bouncy houses and rides, carnival games, balloon animals, face painting.  Goldstar Chili, burgers, hot dogs, shaved ice, and much more! Beer available from Christian Moerlein.  Many locals vendors.  Fantastic music headed up by 80's hair band Firehouse!  Contact Lou Sand at 513.352.6190 for additional information or email lou.sand@cincinnati-oh.gov.
Children's Theater Company
 Presents "City of Immigrants" – See more at: http://washingtonpark.org/event/performing-arts-9/#sthash.OXNs6uBJ.dpuf
Enjoy a free, family friendly production in Washington Park.  Bring blankets or chairs and make yourself comfortable on the Civic Lawn as the Children's Theater Company entertains you during their presentatin of "City of Immigrants".
Children's Theater Company
 Presents "City of Immigrants" – See more at: http://washingtonpark.org/event/performing-arts-9/#sthash.OXNs6uBJ.dpuf
SOG Summer Garden Series: Garden Flowers   ~

Brazee Street Studios

  ~1:30-3 PM ~ $35, Ages 5 and up
Learn about the gardens at Brazee and join us to make your own a one-of-a-kind glass flower! Use a variety of glass materials to create a flower of your own design in this introductory glass fusing class. Then, choose a few plants to take home to start your own garden.  Tuition includes a talk from our garden expert, Pam Simmons, 3 native plant plugs to take home, and a glass flower activity, with a steel stem added after firing.
Cupcake Crazy's

1st Birthday Party ~ 7458 Montgomery Road ~ 4-7 PM ~ FREE!
Cupcake Crazy in Cincinnati is throwing a 1st Birthday Party to celebrate their 1st year in business at their storefront on Montgomery Road.  Cafe De Wheels will be on hand for dinner, free cupcakes and tastings will occur all night, there will be balloon animals for the kids and even door prizes and grand prize raffles (a year of free cupcakes? Yes please!)  email Lisa at [email protected] for more info.
Local author and WGRR on-air personality Janeen Coyle visits blue manatee to read, discuss, and sign her book, "A Pug With A Plan."  "A Pug with a Plan" is the true story of a family's love and loss of their dear pet. The story of Tank and Frank enables children to learn about the circle of life. The story shows adults that there is another pet out there, perhaps in a shelter, that needs a forever home.
Family Class: Munch Your Way through the Garden ~

Civic Garden Center

~ 10:30am-Noon~ $10 (free for CGC Volunteers)
Most of us think that spring is the time to pour all our energy and resources into the garden – but the fall garden offers a bounty that can take you into winter and even into the next year.  Come to explore the crops that are suitable for fall planting and harvesting, crops for overwintering, season extension methods and how these crops fit into a rotation planting schedule.  Please visit http://civicgardencenter.org/garden_files/classes.htm for more info.
Bonnybrook Farms Chuckwagon Dinners

~ Saturdays  June, July, August & Labor Day Weekend, 2013, 5:00pm – 9:00pm ~ 3779 State Route 132, Clarksville, OH  45113 ~ Adults $30.; Children 4-12 $17.; 3 & younger free
A Chuck Wagon Dinner Ride offers a FUN evening of GREAT food and camaraderie for families, friends and groups of all sizes. Enjoy the outdoors and some 'Fun on the Farm' activities. When the dinner bell rings, enjoy a barbecue meal of hickory smoked pulled pork and chicken and farm fresh, locally grown salads and sides.  After dinner, board the wagon for a ride to Todd Fork Creek. At the old chuck wagon, choose from fresh baked desserts then gather 'round the campfire to roast s'mores.  For more information visit www.BonnybrookFarms.com
ManaTots at blue manatee

    Saturdays  9:30am ~  blue manatee children's bookstore and decafe ~ 3054 Madison Road Cincinnati, OH 45209  ~ Free, children up to age 4
Stories, songs and fun!  For more information visit  www.bluemanateebooks.com
Sunday
Graeter's

National Ice Cream Day ~ Graeter's area Cincinnati locations ~ Starting at 9 AM
Sunday, July 21, Graeter's is offering single scoop sugar cones for just $1.43. Fans can get one scoop of their favorite ice cream for this special price at all area Graeter's retail locations. Stores open at 9 a.m. Sunday. Visit www.graeters.com for a location near you.
Third Sunday Fundays ~

Taft Museum of Art

~ 316 Pike Street Cincinnati, Ohio 45202 ~ FREE
Bring the whole family to the Taft Museum of Art on select third Sundays to explore, create, and play. Activities are free and ongoing, so drop in when you have time and stay as long as you like. Monthly Theme: http://www.taftmuseum.org/?page_id=200  For more information call  (513) 684-4515.
All Weekend Long
The 39 Steps ~

Cincinnati Shakespeare Company

~ 
July 19- August 11, 2013

on Thursday

,

Friday

&

Saturday

evenings at

7:30pm

and Sundays at

2pm

.


It's an evening of comedy…to die for.  This runaway Broadway hit lands at CSC this summer.  Alfred Hitchcock's classic potboiler gets a tongue-in-cheek twist as four actors rocket their way through over 100 roles in a blood-tingling, and hilarious, tale of espionage and murder.  Single ticket prices range from $22-$31 on Thursdays and Sundays and from $26-$35 on Fridays and Saturdays.  If available, $14 student rush tickets may be purchased 30 minutes before a show with a valid student ID.  This is a MUST see production.  While this is more of a date night activity it's an absolute 'don't miss' event so get your tickets now!

Aida

~ Cincinnati Opera ~ Music Hall ~ July 20 at 7:30
The story of a young Ethiopian princess torn between loyalty and love when she finds herself drawn to her captor, Radames.  Widely accepted as one of the most powerful and beautiful operas in the world, Cincinnati Opera outdoes itself with it's 2013 production of this beloved opera.  The perfect date night (trust me fellas), you don't want to miss it!  For more information and to order tickets visit www.cincinnatiopera.org
Love or loyalty — which should prevail when everything is at stake? Aida, an Ethiopian princess enslaved by Egypt, finds herself helplessly drawn to Radames, her captor. Caught between warring nations, she faces an impossible choice. Should she betray Radames to protect her beloved homeland? Or surrender completely to love? – See more at: http://www.cincinnatiopera.org/performances/aida/#sthash.zTZTlhBD.dpuf
Who doesn't love the county fair?  Too many activities, food, and events to list!  Visit www.kentoncountyfair.com for details and event times.
Immaculate Heart of Mary Festival~  July 19-21 ~ Friday & Saturday 6pm-12am & Sunday 3-11pm ~ 7800 Beechmont Avenue Cincinnati OH 45255 Anderson Township 513.388.4466
The IHM Festival has been voted one of the top three festivals by CityBeat Magazine for the third consecutive year. Aside from being the largest festival on the eastside, we continue to strive for ways to involve the community. This year we have several area businesses participating including, Skyline Chili, BW3, Papa John's Pizza, Sizzling Wok, Delzotti's Famous Italian Sausage, City BBQ and a petting zoo provided by All Creatures Animal Hospital. We feature a Sunday Chicken Dinner, a fantastic bid-n-buy and an afternoon art fair. In addition, we provide Live entertainment: Friday, The Blue Tip Band 7-11pm Saturday, The Rusty Griswolds 7-11 Sunday, Easter Rising 6-10 Website with Event Information: www.ihom.org/festival.
Vacation Postcards for the Library
Send a postcard to us June 1-August 31 Kenton County Public Library  Free Send a postcard to the library from your vacation and we'll display them in the library. Visit the website for branch addresses.
Want more?
Farmers Markets ~ There are a multitude of wonderful Farmers Markets around town that you can visit for fresh, local, delicious foods, flowers and more!  Check out this post for a list of markets in Cincinnati & Northern Kentucky.  Find one in your neighborhood, or visit a new neighborhood market!  /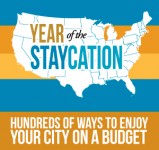 Are you opting for a STAYcation instead of a vacation this summer?! There are so many fun things to do around town this summer…which will save you big bucks on gas! Our own wonderful region has so much to offer, here's a few of our favorite places around town to enjoy on your "staycation".
FREE MOVIES!  Many neighborhood parks are offering FREE outdoor movies this summer!
Don't miss the Ultimate Dinosaurs at the Cincinnati Museum Center!  Read all about them in this post.  And don't forget, Members can pay ONCE to see the dinos at a discounted rate, and then get in free over and over again for the duration of the exhibit!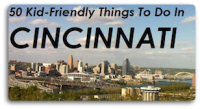 You can always check out our post of 50 Kid-Friendly Things To Do In Cincinnati if you need more!  There's no end to the fun you can have in this great city!