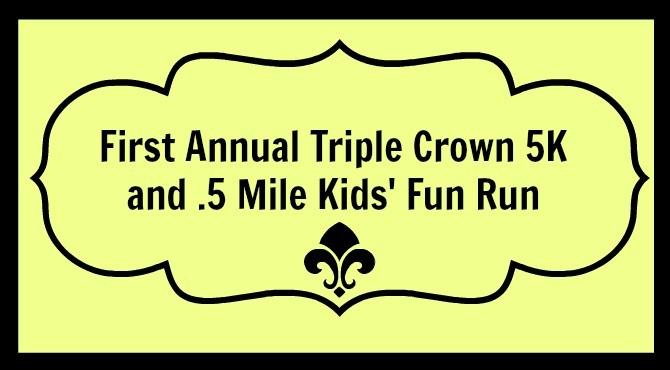 Stephanie Fuller wished there was a 5K and kids' run in her neighborhood.  She also thought it would be nice if it was a 5K that raised money for a good cause.  When she asked around, everyone said, hey that would be great!
Who's going to coordinate it?
Thus, the Triple Crown 5K Fun Run and .5 Mile Kids' Run was born.
But, it was hard to decide which one charity would benefit from the 5K.
Why not let the winners decide where the money would be donated?
Problem solved!
Money raised for the run will be donated to the 5K of the winners' charity of choice.  There are three ways to win:
Be the top male finisher
Be the top female finisher
Register the largest number of participants for your charity
Each category winner will earn 1/3rd of the proceeds for their charity (please see the registration form for definition of a charity for the Run).  Charities are eligible to win more than one category.  Maybe your organization can place first in all three categories and become the Triple Crown Winner!
The run takes place in the Triple Crown subdivision in Union, Kentucky on August 10th.  The 5K begins at 7:00am and the .5 Mile Kids' Run is at 8:15am.  Children under the age of 12 may participate in the Kids' Run.  Jogging strollers are permitted, but no pets.  There is no age restriction on the 5K.
Registration for the race is $20 for the 5K and $15 for the .5 Mile Kids' Run if received before July 22nd.  If received between July 23rd and August 6th prices are $25 for the 5K and $20 for the Kids' Run.  Please see the registration form for more details.  Register before July 22nd and get a tshirt!
We are excited about this 5K because my ten year old has recently shown an interest in running, specifically 5Ks.  This should be a nice, family friendly event, that is not overwhelming.  Make sure you register and try to win money for your favorite charity!
When not blogging for Family Friendly Cincinnati, you can find Michelle writing at her personal blog, I'm Living the Good Life.