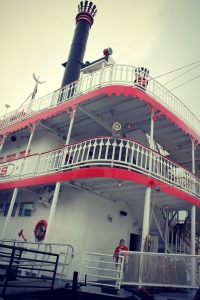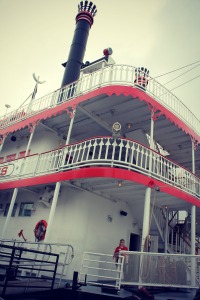 Have you ever gone on a BB Riverboats Dinner Cruise?  These cruises are a wonderful way to experience our city while having fun with friends or family.  Thanks to the kind folks at BB Riverboats we were able to try out their Christian Moerlein Beer & BBQ Dinner Cruise a few weeks back.  Not only did they give us tickets to take the cruise, they also gave me four tickets to give away on Family Friendly Cincinnati!  Before we get to the important details about the giveaway, let me tell you about our fabulous experience on the dinner cruise.
My husband and I went on the cruise with Amy Q. and her husband.  None of us had ever had the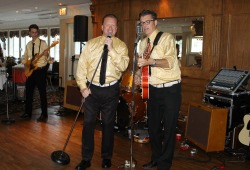 pleasure of a dinner cruise experience, so we had no idea what to expect.  We had a great table right next to a window, but looking around I realized that there really wasn't a bad seat in the house, because there are so many windows in the dining room, it feels like every table is in close proximity to a window and a gorgeous view.  While we waited for everyone to board the boat and for the beer tasting to start we listened to the cool oldies rock played by The American Kings, a popular local band.  This band was so much fun and made us feel like we were at a party.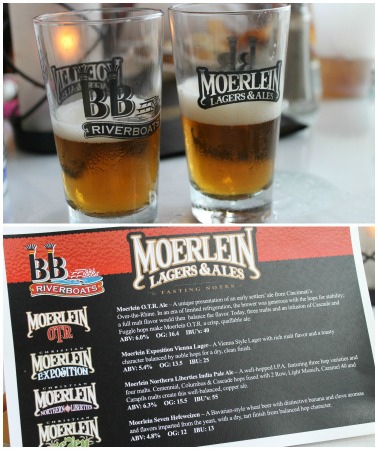 BB Riverboats teamed up with Christian Moerlein Brewery to put together this cruise, so during the cruise we tasted four different brews from Moerlein (in great little beer glasses that we were able to keep after the cruise).  While we sampling the brews a representative from Moerlein talked about the beers we were tasting and gave us a talk about what made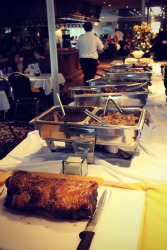 each beer different.  And during the tastings we were served a scrumptious salad, and then it was time for the buffet.  Oh, the buffet.  I'm going to go ahead and speak for my whole group…it was the best buffet we've ever been to!  Here's what was on the menu: carved roast beef with BBQ Sauce, BBQ roasted chicken quarters, pulled pork, grilled marinated vegetables, southern style green beans, baked beans, Saratoga chips, coleslaw, potato salad, marinated cucumber, onions, and tomato salad and cheesecake for dessert.  Coffee, tea, water, and the four samples of beer are included in the price of the cruise, soft drinks and other alcoholic beverages are extra.  The food really was delicious.  I know that menu sounds like some of it is your typical backyard BBQ fare, but it really was better than any backyard BBQ I've ever been to.  After dinner we wandered around the decks pretending we were sight-seeing and taking in the beautiful views on both sides of the Ohio River.
You might be wondering if a Beer & BBQ Cruise is necessarily a "family friendly" outing, and to that I say YES it is!  We saw many families on this cruise, and I think had we brought the kids instead of friends they really would have had a blast too (but Mama needed an adult's night out!).  My kids have been on other BB Riverboat cruises (Pirates!) and they love being out on the river on a big paddleboat and seeing the sights.  All of the kids on this riverboat dinner cruise seemed to be having so much fun, and there were kids of all ages…from infants to teenagers.  Riverboat cruises are not just for out-of-towners, they are a perfect outing for local families as well!  Are you looking for a special way to celebrate a birthday or anniversary?  Or perhaps you are taking a "staycation" this summer and looking for something fun & unique to do.  BB Riverboat cruises are perfect for any occasion.
Christian Moerlein Beer & BBQ Cruise are every Friday (through Labor Day).  They board at 6:30pm and sail from 7:30 until 10:00pm.  For more information about ticket prices and other cruises offered by BB Riverboats (there are quite a few different options…including some tours geared towards children) be sure to check out the BB Riverboats website.  And to read more about our BB Riverboats experience, check out The Little Things Blog BB Riverboats post.
——–THIS GIVEAWAY IS NOW CLOSED! ————
 Now, on to the giveaway!  One lucky FFC reader will win 4 tickets for a BB Riverboats Christian Moerlein Beer & BBQ Cruise!
 WIN! WIN! WIN!
If you'd like a chance to win tickets for the Beer & BBQ Dinner Cruise, you are in luck.  BB Riverboats has given Family Friendly Cincinnati a four pack of tickets for one of the remaining Christian Moerlein Beer & BBQ Cruises for the Summer of 2013 of your choosing (Fridays through Labor Day).  Date is subject to availability.  Here's how you can win:
RULES:  Must be 18 years of age to enter and live in the local area.  Must be able to attend one of the remaining Beer & BBQ Cruises on BB Riverboats.    Must leave a comment with email address in the post below.  Winner has 24 hours to respond after contacted or another winner will be drawn.
HOW TO ENTER: 

Simply answer question number one below. Additional items are bonus entries. Leave a separate comment on this post for each one you complete. A total of five entries are possible.
Question 1: Why do you want to win this BB Riverboats Beer & BBQ Dinner Cruise?
Bonus Entries
That's it…that's FIVE ways to enter which means FIVE chances to win! Winner will be drawn (randomly) Tuesday, July 23rd at 2pm.  The winner will be announced on Facebook and emailed and has 24 hours to respond or another winner will be chosen.
Good luck!
Disclaimer:  In exchange for this giveaway, I received a complementary  Christian Moerlein Beer & BBQ Cruise  for four from BB Riverboats.  All opinions are 100% my own.