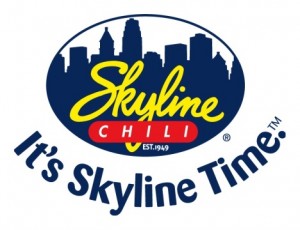 If you grew up in the Greater Cincinnati area then chances are you've had your fair share of Cincinnati style chili.  Chili spaghetti, 3-way, 4-way, 5-way, coney, chili cheese sandwich…one of those is your menu item of choice when you stop by the local chili place to grab a bite.  I'm a small 3-way and one chili cheese sandwich kinda girl.  My youngest-he's a BIG 3-way and whatever I don't finish on my plate kinda boy.  That kid can't get enough of chili in any form.  I'm not surprised really…Skyline Chili was dinner the night before he was born.  He was destined to be a Skyline fan!
My favorite thing about Skyline Chili is the cheese.  There is something about it that's just not like the kind you get pre-shredded in a bag at the local grocery store and try as I might I just can't seem to get cheese to be that finely shredded and creamy when I do it myself at home.  There's some Cincinnati magic in that cheese and it is what makes those Skyline 3-ways so perfect.  That's why I love Skyline's Skyway!
The Skyline Skyway allows you to add 50% more cheese to any of their regular or large sized '-Ways' (3-, 4-, or 5-!) all through the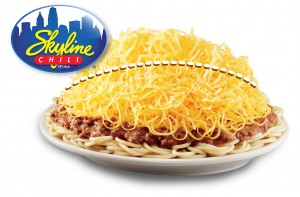 month of July for NO additional charge!  That's right-50% more cheese on your 3-way just by asking!  That sounds like the perfect lunch idea to me.  To help you celebrate the limited-time return of the Skyway we want to send you to lunch with a $20 gift card!  Treat yourself and a friend to a Skyway 3-way (or keep it all for yourself..I won't judge.)
WIN WIN WIN
To enter to win a $20 Skyline Chili gift card answer the following (mandatory) question:
Which '-way' is YOUR way?
3-way with lots of crackers?  5-way with some hot sauce?  Tell us which way you will order YOUR Skyway and you are entered to win!
For extra entries you can do one or all of the following:
Contest will run through Wednesday, July 17 at Noon . You must be 18 and a resident of the Greater Cincinnati area to win. Once announced winners will have 24 hours to respond and claim their tickets or a new winner will be drawn. Please leave a separate comment IN THIS POST for each entry.  Good luck!
A little about Skyline Chili:
In 1949, Nicholas Lambrinides began pursuing the American dream by serving his delicious secret recipes to appreciative customers. Since then, Skyline Ways, Coneys and fast table-side service have been enjoyed by generations.  Skyline Chili serves its Cincinnati-style chili in over 130 restaurants and thousands of grocery stores, making it one of the truly unique regional taste sensations in America.  Skyline is dedicated to bringing friends and families together for an experience like no other.  Skyline Chili is synonymous with Cincinnati-style chili throughout the world.  For further information, please visit www.skylinechili.com.
disclosure: We were given a chance to try out the Skyline Skyway, as well as a $20 gift card to share with readers, courtesy of Skyline Chili. . Opinions above are, as always, 100% our own.

When not blogging at Family Friendly Cincinnati you can find Amy Q. writing at her own blog

In A Galaxy.