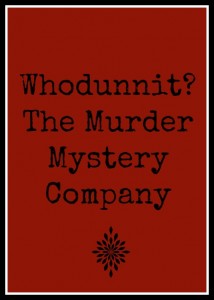 A few weeks ago my husband and I celebrated our wedding anniversary…9 years.  I'm not sure what that translates to as far as gift giving goes (Wood? Paper?) but for us it turned into a night of murder and crime solving.   No, we didn't pull a Bonnie and Clyde.  We attended a murder mystery dinner hosted by the good folks at The Murder Mystery Company.
The Murder Mystery Company is the nation's most popular and interactive mystery troupe, a group of talented actors who are masters of the 'whodunnit'.  A Murder Mystery dinner is like nothing you've ever done before and was one of the most entertaining 'shows' I've ever experienced.  It's a fully interactive evening of fun where you, and your table-mates, are the sleuths solving a murder that occurs right under your nose!  I'll admit that I was a little intimidated at first, being encouraged to dress in period attire and the possibility of being given a role as a character for the evening gave me a little stage-fright, but by the time the evening was done I  really regretted not having rounded up a flapper dress and wished I hadn't left my feather boa at home.  Many, many folks showed up in fedoras, slick suits, and flashy dresses and everyone came with an appetite for solving the mystery!
Without giving too much of the story line away I'll give you a run through of our evening so you'll know what to expect at your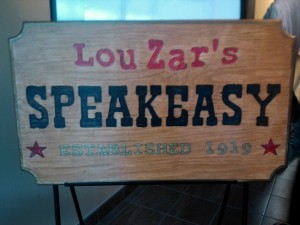 own murder mystery dinner!
We arrived at our murder mystery location at Anderson Post 318 on Clough Pike in Cincinnati which had been magically transformed into Lou Zar's Speakeasy.   We were greeted by Lou himself, as well as his bouncer/right hand man Dixon and Lou's mother, Ma Zar.  Ma was really sure that she had seen me before, which I assured her was impossible.  She insisted I had just been in the week prior…but not with my husband. (wink, wink-nudge, nudge…know what I mean?)  I promised my hubby I hadn't been out with some other Johnny or Joe but I don't think Ma Zar believed me.
We were shown to our table where we introduced ourselves to our table-mates and were encouraged to chat and get to know one another by Ma Zar.  Being a team is very important when solving a mystery, you cannot do it alone!   We chatted, ordered drinks, and looked over the rules of solving a mystery.  Besides having a handy set of tips and rules, and suggestions for questions to ask the suspects, we also had been given a sheet to help us track the suspects, motives, and a space to jot down handy clues.  It's good to keep track of the whole cast of characters and any interesting bits of information you happen to overhear about them.  It's those little clues that might break the case!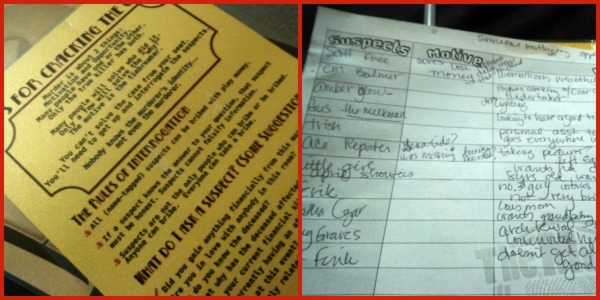 While we chatted with our new friends, and read over the tips and suggestions, our hosts-Lou and his girlfriend Amanda, his mother Ma Zar, and Dixon-were all busy identifying the rest of the cast of characters for the evening.  Folks were chosen from amongst all of the diners that evening to play parts in our evening's mystery.  Once chosen, those folks were given an identifying prop, like a camera or a hat, and a binder with the back story on their character and some useful information for portraying the character they had been given.  However, no one knows who the murderer is, or how it's accomplished, until the very end.   Each character is given clues that they can share, and if you ask them questions they cannot lie, but it's not until the very end that any of us know how the events of the evening really unfolded.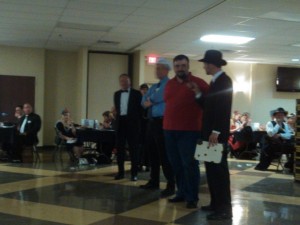 Of course every cast of characters has it's extras too and it was as one of these extras that my husband got picked to participate.  It would seem that unbeknownst to me my husband had become a Prohibition Era bootlegger and may or may not have been involved in the murder we were there to investigate.  After being questioned by Detective Peter Ness he was found to be innocent of involvement in the murder.  The milk man, Gus, wasn't so lucky….his connections to Lou Zar's girlfriend, Amanda, put him in a pretty tight spot with the detective!
At several points during the evening, after dinner was served and again after dessert, everyone was encouraged to get up and question the 'suspects', mingle with the cast, and question other tables and diners about what clues they had come up with and what their theories were.  This turned out to be one of the most entertaining parts of the evening.  You really have to work to find a good way to phrase your questions so that you get the best answer that you can.  The more information you gather during these sessions the better!  It was so much fun to see everyone getting into character, chatting and having fun with the other diners and cast members, and just making the most of the moment!  As the evening progressed you could really see everyone loosening up and enjoying the experience.
At the end of the evening, once all of the clues are divulged and all suspects questioned, you are given the opportunity to write down who you think committed the crime, when and how they did it, and what their motive is.  The closer you get to guessing all of the parts of the crime the more likely you are to win.  We had plenty of fun discussing who did it and why but the best part of the night was listening to all of the other diner's theories on the crime.  Some were really serious and well thought out, some were just plain silly, and every single one was entertaining.  We were not even close to getting it right but there was one lucky table that had put all of the pieces of the puzzle together and come up with motive, opportunity and murderer!  They received certificates stating that they were the night's super sleuths and got a big pat on the back from everyone in attendance.  Also chosen to receive awards that night were best performance by a non cast member character and best dressed attendees (hence the reason I had wished for my flapper dress and feather boa!)
All in all we had a fantastic time, discussed all of those "aha" moments on the way home that night, and wondered about some of the other fun productions that are presented by the folks at The Murder Mystery Company.  I would love to go again and both my husband and I give it two really big thumbs up as a date night experience!   It certainly beats the dinner and a movie date night by a longshot.  Digging in and solving a mystery with your significant other gets your minds on something besides the normal mysteries of 'did I remember to pick up toilet paper today' and 'how did Junior manage to get that LEGO stuck in his nose' and gives you a fun night together where you can forget the mundane and pretend to be a mobster and his flapper for the night!
Family Friendly Cincinnati wants to give you a great date night mystery to solve too so we worked with the good folks at The Murder Mystery Company to give away two tickets to check out a murder mystery dinner for yourself!
WIN WIN WIN
To enter just check out The Murder Mystery Company website and then answer the following (mandatory) question:
Which Murder Mystery production would you most enjoy?
Crime and Pun-ishment? Death at the Doo-Wop?  Just tell us which one looks like the most fun to you and you are entered to win!
For extra entries you can do one or all of the following:
Contest will run through Friday, July 5 at Noon. You must be 18 and a resident of the Greater Cincinnati area to win. Once announced winners will have 24 hours to respond and claim their tickets or a new winner will be drawn. Please leave a separate comment IN THIS POST for each entry.  Good luck!
The Murder Mystery Company performs at various venues throughout the city with the newest location at The Old Spaghetti Factory- Fairfield.  For information on locations, dates, and times please visit their website.  Productions change every few weeks so be on the lookout for new shows all the time!  Not only can you attend a public event at one of the local venues but you can also book the Murder Mystery Company for a private event!  Kids birthday mystery party, corporate team building, graduation party…they do it all!  For quotes and other information check out the private events page on their website.
disclosure: We were treated to a murder mystery dinner for review and provided with tickets by The Murder Mystery Company to give away to our readers. Opinions above are, as always, 100% our own.

When not blogging at Family Friendly Cincinnati you can find Amy Q. writing at her own blog

In A Galaxy.