We are slowly working our way through our Summer Bucket List, and we just bought a new van, and all of a sudden I'm realizing that I need to be better about cutting corners.  Not all of our summer adventures have been cheap, and summer is just beginning!  So I need to find ways to have good, cheap or free fun with the kids!  Cheap isn't always easy with a bunch of kids in tow.  But today we were able to have an entire morning of fun and I only spent $10 on five children.  Technically, we could have packed a snack and the whole morning would have been free…but the snacks we bought were totally worth it!  Our morning included learning, snacks, exercise, fun, a theatric performance, and more!
Here's how we spent our morning in Covington without spending too much money:
First we went to the Kenton County Public Library where Robin & Henry attended Preschool storytime and learned about lemonade stands & money and then had lemonade & cookies while coloring lemonade pictures.   While they attended storytime the older kids perused the shelves, did some summer reading for their summer reading program and played games.  Check out the Kenton County's website for a list of all the programs they are offering this summer, there's something for everyone!  And if KCPL isn't your local library, be sure to explore your own local library!
After storytime we walked to the Left Bank Coffeehouse and picked up some Croughnuts and Grateful Grahams to eat later as a snack.  We also picked up a few water bottles (drinks & snacks for 6 people for less than $10).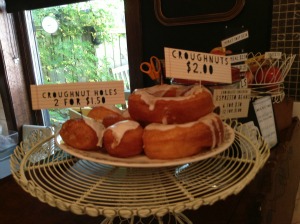 Then we travelled to the MainStrasse Village where we walked to Goebel Park to play for a bit.
When the clock struck 12 in the Carroll Bell Tower we sat in the shade and watched the re-enactment of the Pied Piper of Hamlin on the tower while eating our snacks and hydrating with water (man it is hot out there!).  The kids were fascinated.  This show is done every hour on the hour during the warmer months.  It's been running for ages, I can remember going and watching it when I was a child.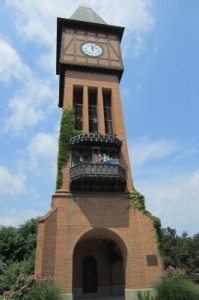 Then the kids ran races along the promenade in MainStrasse Village.
And of course we stopped at the Goose Girl Fountain to make a few wishes and take a few pictures.
Good , cheap fun on a very sunny day!  Although, I should add…had I brought a little money with us we might have stopped at one of my favorite stores like Stoney's Gift Shop (All Things Fairy & Princess, The Candy Bar, or MK's Totebags and Monogramming.  Or perhaps we would have grabbed a bite at Otto's, Chez Nora, Cock and Bull or the new Main Bite.  There's so much to do in the MainStrasse Village, so it should be on your Summer Bucket list!
When not blogging for Family Friendly Cincinnati, you can find Katie writing at her personal blog, www.thelittlethingsjournal.blogspot.com.