A few weeks ago I was invited to a special event at Firehouse Subs on Princeton Pike.  It was an evening of delicious food and lots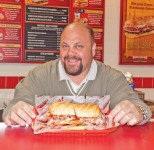 of info with a wonderful host-one of the founders of Firehouse Subs, Robin Sorensen.
I'll admit, I hadn't heard of Firehouse Subs before the night of the event.  I'm not sure how I was that oblivious because they currently have more than 600 stores nationwide and are growing as we speak!  Firehouse subs was founded by brothers who also happened to be firemen with a love of cooking and good food.  More impressive to me was their desire to give back to the community and their attention to customer service.  It was clear from listening to Robin speak that he felt that the connection to their customers was the heart of their business.  Only the best ingredients are selected to be part of a Firehouse Sub.  Only the best customer service permitted in their shops.
Our night started with a visit to the Coca Cola Freestyle machine.  They were the first national chain to offer the Freestyle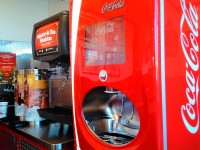 machine and even had their own cherry-limeade recipe crafted to be available on the Freestyle machine as well.  With over 120 flavor combinations you are sure to find a favorite…mine is the Cherry Coke Zero.  Try a different flavor each time you visit and you won't get bored with it anytime soon!
Next we were served several of their signature subs.  Before we get into the deliciousness of each sub we sampled let me tell you this: they use only the finest quality meats and cheeses (their cheeses are all Sargento) and they use double the amount of meat as your typical sub place.  To finish off these amazing subs they use a unique steaming method to open the flavors and give each sub their signature taste.   I'm sure you're thinking "yeah, but the prices are probably sky high" but you would be wrong.  They are one of the most affordable chains in the "fast casual" category.  I was honestly amazed at the prices, and very happily so.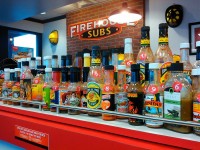 On to those amazing subs.  We got to try quite a few but our personal favorites were the Hook & Ladder (smoked turkey breast, Virginia honey ham, Monterey jack cheese), the Italian (which was highly recommended by so many of you-Genoa salami, pepperoni, ham, melted provolone, Italian dressing, and seasonings), and the New York Steamer (Corned beef brisket, pastrami, melted provolone, mustard, mayo, and Italian dressing).  All of our sandwiches were served "Fully Involved" which means with mayo, mustard, lettuce, tomato, onion and a dill spear on the side.  On a side note-both the Hook & Ladder and New York Steamer are names of Firetrucks…just a little trivia for you.

I really don't think I could pick a favorite.  Everything we tried was absolutely delicious, perfect proportions, extra juicy and flavorful.  I actually got behind on the tasting because I couldn't let any of those magnificent subs go to waste and by the time we left I was absolutely stuffed, but OH was it worth it!  They topped our meal off with a delicious lemon macadamia white chocolate cookie.  I didn't want to eat it but I couldn't help myself…it was that good.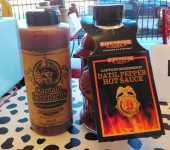 Let's not forget Captain Sorensen's Datil Pepper Hot Sauce!  My hubby is definitely the hot sauce aficionado, I usually pass on the spicy stuff, but this sauce had me looking for things to put it on it was So. Darn. Good!  I kicked my self the whole way home because I forgot to grab some on our way out and I've been craving it ever since!  The sauce was created by the father of the founders, a Fire Chief of course!  The Datil pepper is a super spicy Caribbean pepper and unique to Florida.  The sauce is spicy yet sweet and a perfect compliment to their delicious subs.
Then, to make the evening that much more fabulous, Robin shared some information on the Firehouse Subs Public Safety Foundation.  Here's a little about the Foundation from Firehouse Subs:
Firehouse Subs Public Safety Foundation was launched in 2005 as a means
for Firehouse Subs restaurants to give back to the local community.
Emergency service entities throughout the nation are lacking the tools
needed to adequately protect their communities. As a 501 (c) (3) non-profit
organization, the Foundation effectively reaches out to provide vital funding,
resources and support that they may not otherwise receive.

The Foundation is dedicated to improving the life-saving capabilities of
emergency service entities in communities served by Firehouse Subs by
providing funding, resources and support to public safety entities.
Individual restaurants raise money through the sale of pickle buckets, cash
donations at the counter and the "Round Up" program, which allows guests
the opportunity to "round up" their bill to the nearest dollar. All funds are in
turn given back to the Foundation.
How amazing is that?!  The Firehouse Subs Public Safety Foundation has donated $80,000 in equipment to various local organizations alone.  Talk about an incredible community partner!   Donating equipment such as thermal imaging cameras, automated external defibrillators, personal protective gear, and so much more is just one way that the Foundation gives back to the community.  Each October the Foundation also sponsors Fire Safety Month.  Since its inception, Firehouse Subs Public Safety Foundation has donated more than $5.7 million to public safety entities in 36 states and Puerto Rico.   That's a lot of pickle buckets (and a whole lotta pickles!) for a fantastic cause!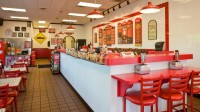 All in all I was incredibly impressed with the Sorensen Brothers and what they have built.  They were aiming for 1 location in their little corner of Florida and have grown to more than 600 locations, and growing.  They never lost the integrity that meant so much to them, and even built upon that with the Firehouse Subs Public Safety Foundation.  And those boys can COOK!
disclosure: We were treated to a sampling of menu items for review and provided with gift cards by Firehouse Subs to giveaway to our readers. Opinions above are, as always, 100% our own.

When not blogging at Family Friendly Cincinnati you can find Amy Q. writing at her own blog

In A Galaxy.