Today we bring to you a guest post from Gina Holt, of the Kenton County Public Library.  She is going to tell you about all the  fun activities and awesome reading programs that will be going on at the branches of the Kenton County Public Library this summer.  My kids got a sneak peek at the shirts you can earn for reading, they are SUPER COOL!  We'll be heading to the library this week to stock up on books for the summer reading program, it's one of our favorite summer traditions!

Summer Reading for Fun & Prizes at the Kenton County Public Library ::
Light Sabers, Jedis, Elvis impersonators, Circus acts and free pizza are just a few ways the Kenton County Public Library
will kickoff Summer Reading Club for teens, adults and children. A whole world of adventure awaits you in books and programs at the Erlanger, Durr and Covington branch libraries. And the best part; you can win prizes just for reading!
Children ages 2-10 can visit any Kenton County Public Library location to pick up a reading log. Once children read, or their parents read them, five books, they can pick up a prize. Once children reach 10 books read, or listened to, they earn the annual KCPL summer reading t-shirt. They also can enter a raffle to win more prizes, including the grand prize of a Nintendo 3DS XL. Children's illustrator and author David Catrow designed the T-shirt art.
For teens, the library has planned many great programs. Teens can also enter weekly raffle drawings for reading and attending programs as well. For each book read, or listened to, and program attended, teens can enter to win. Prizes include iPod touch; Kindle Fire HD, Amazon gift card, Visa gift card, Game Stop gift card, and restaurant gift cards. The grand prize is a Chromebook.
Adults will receive a raffle ticket for every book read or program attended as well. Weekly drawings for prizes include gift cards to local book stores with the grand prize of a Nook HD.
Kenton County Public Library's Summer Reading Club begins June 1 and runs through August 31. Visit www.kentonlibrary.org/src for more information. Many prizes are made possible thanks to the Friends of the Kenton County Public Library. Snappy Tomato Pizza and Family Friendly Cincinnati are also sponsors of the Kenton County Public Library Summer Reading Club.
 # # #
 Kenton County Public Library has three celebrations planned to kick off the Summer Reading Clubs. They are free to attend:
                                Star Wars Reading Kick-off – Erlanger Branch, 401 Kenton Lands Rd.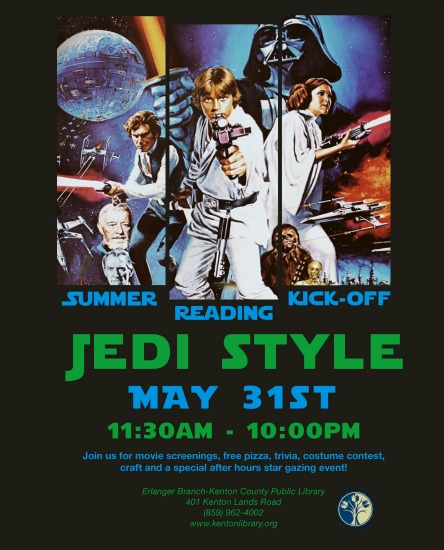 Friday, May 31 from 11:30 a.m. to 8:30 p.m.
A full day of Star Wars activity including:
–          Movie Screenings: A New Hope 11:30 a.m. – 1:30 p.m.; The Empire Strikes Back from 2-4 p.m. (for all ages)
–          Free Pizza from Snappy Tomato and a screening of Return of the Jedi from 6:30-8:30 p.m.
–          Star Wars Trivia from 4-5 p.m. (ages teen and adult)
–          Star Wars costume contest at 5 p.m. (all ages)
–          Make it Take It craft from 5-8 p.m. (while supplies last); all ages
–          Star Gazing (weather permitting) from 9-10 p.m. (all ages)
Elvis and Summer Reading – William E. Durr Branch, 1992 Walton-Nicholson Rd., Independence
–          Saturday, June 1 at 1 p.m.
–          There'll be a whole lotta shakin' going on with the rocking sounds of Mike "Elvis" Davis.  Snappy Tomato provides pizza for everyone!  No registration required.  Free rock star shades to the first 150 in attendance!
Circus Days and 5ks – Covington Library, 502 Scott Blvd.
Saturday, June 8 from 9 a.m. to noon
The children's staff will be on hand at the Library's 5k with entertainers from Cincinnati Circus. Children's activities are free. To register for the race go to www.kentonlibrary.org/race
Stay Tuned, next week we will bring you a lineup of reading programs going on across the region!