There's a new coffeehouse in town…but you won't think it's new when you walk in.  Because when you step through the door at the Left Bank Coffeehouse you feel like you've stepped back in time.  The Left Bank Coffeehouse has a certain old world charm that makes you feel like you in a Paris coffeehouse years ago. It is a family business, owned by Russ & Jackie Slone, who work next to their two daughters Katy & Maggie behind the counter.  Having the family working behind the counter makes you feel like you are at a friend's house for coffee, there's such a warm,  friendly, and intimate feeling at the Left Bank. I can see it becoming quite the neighborhood hangout in the coming months.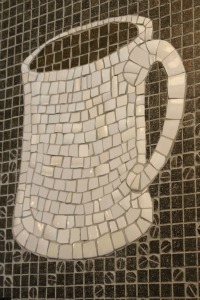 Jackie & Russ and their daughters have been working for years to start this coffeehouse in Covington, and their efforts show in all of the intricate details.  The Left Bank Coffeehouse is such a sweet little place to meet friends for a cup of coffee, or to spend a morning sipping tea and reading a book.  Wood paneling, antique furniture and knick knacks, handcrafted tables made from yard sticks, mosaics & other unique touches make this coffeehouse one of a kind.  The mosaics you see in the coffehouse and gardens surrounding the building were all made by Jackie, who also teaches at Baker Hunt, which is just across the street.  Her mosaics, and other handcrafted items in the cafe lend to the charm of the place.  Aside from the tables inside of the coffeehouse there are also several tables & benches outside on the patio in the gardens.  The garden is beautiful & enchanting…you almost expect to see fairies floating through.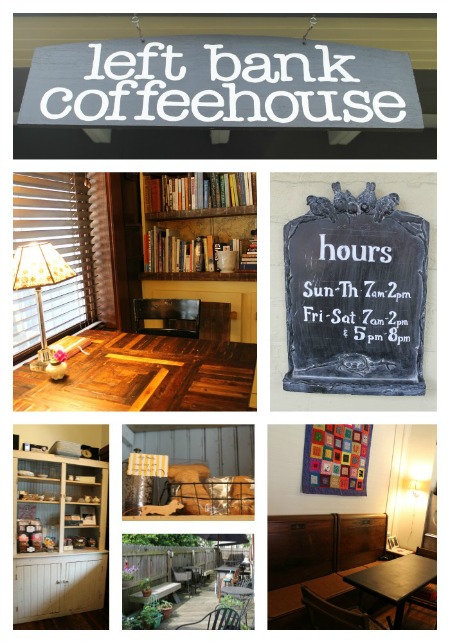 The menu at Left Bank Coffeehouse consists of coffees, teas, hot drinks, cold drinks, smoothies, pastries from Savor Catering & Events, soups, oatmeal, yogurt, Yankee Doodle Deli gourmet pretzels, and even homemade dog treats.  There's a little something for everyone, and all at reasonable prices!  My munchkins enjoyed donuts and smoothies outside the morning we visited.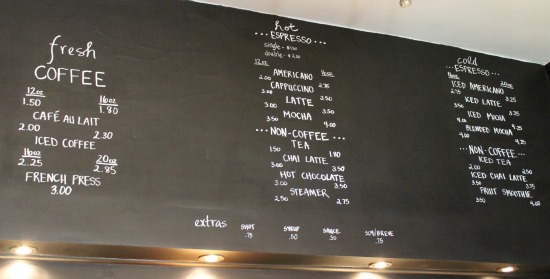 Left Bank Coffeehouse is located at 7th and Greenup Streets in Covington 701 Greenup Street (entrance on 7th Street)  859-431-4655  You can learn more about Left Bank Coffeehouse on their website or their facebook page.