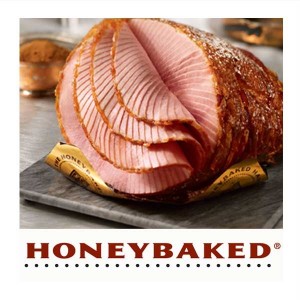 A few weeks ago, I was excited to be approached by HoneyBaked Ham to do try out their products, and then do a giveaway on here. I was excited for two reasons: first, I love HoneyBaked Ham; and second, timing on this was wonderful. You see, I just had knee surgery so I knew I needed to stock up on quick, easy meals that would fill my family up without causing huge time commitments for my husband. This time of year, my kids are so busy, so huge complicated meals just don't work.
I stopped in to my local store in Kenwood and picked up some supplies for a few nights of meals. We feasted on Smoked Turkey – which was great in a sandwich with some cheese I picked up at the same time as the turkey; and baked beans – I am a complete sucker for baked beans.  Two days later, I chopped up some more turkey and added it to a big green salad. I was really impressed with all of the other quick foods that were on display as well from ribs, yummy side salads, desserts, and, of course, ham. Yummy ham! I know for my family, we have a crazy insanely busy Summer coming up this year. Quick, delicious meals are going to be a must, so I'm glad this is an option for us.
Here's what Honey Baked Ham shared with me:  "with the busy summer season kicking off with Memorial Day in just a couple of days, we want be sure cooking for your summer gatherings is as easy as possible. HoneyBaked Ham is an easy one-stop shop for summer food essentials, giving you less time for food prep and more time for summer fun. HoneyBaked offers everything from ribs to side dishes to party platters, making it easy to get whatever you need, whether you're hosting a Memorial Day cookout or heading to a graduation party."
In addition to the selection offered, I was impressed with the service I received. The staff was super helpful and courteous. They even made sure they pulled out a coupon for me to use on my order. I didn't know anything about the coupon before coming in, so this was just an added bonus and made it possible for me to pick up some extras.
Be sure to check out the HoneyBaked website or Pinterest page to get an idea of what Honeybaked has to offer and to get some fun party planning ideas.
Everything I purchased, the smoked turkey, the potato salad and the sliced cheese, tasted fresh and of high quality. This is why I'm pleased to announce that I have a giveaway for you to get to try some things out from HoneyBaked Ham yourself.
WIN WIN WIN
One lucky FFC reader will win a $25 gift certificate to use at a Cincinnati location of HoneyBaked Ham!  Entering is easy-just answer the question below by leaving a comment on this post and you are automatically entered to win:
What's your favorite thing from HoneyBaked Ham?
Want an extra entry or two?  Just do one or all of the following and leave a separate comment fore each in this post stating that you did so:
That's it…that's FIVE ways to enter which means FIVE chances to win! Contest will close Wednesday, May 29 at 4PM with winner being selected at random and then notified via email (we'll also announce it our our Facebook page). Contest is open to Tri-State residents ages 18 and up. Winners will have 24 hours to respond or another winner will be chosen.  Please leave a separate comment for each entry IN THIS POST to be eligible to win!
Gift Certificate will be mailed to the winner.
Good luck to you!
disclosure: I received a $25 gift card to HoneyBaked Ham, but all opinions expressed are my own. 
When not blogging for Family Friendly Cincinnati, you can find Karen writing at her personal blog, Little World After All.