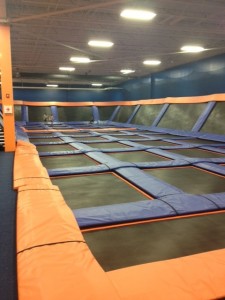 What kid, strike that, what per­son doesn't like a tram­po­line? My family had the  best time stop­ping out to Sky Zone Indoor Tram­po­line Park in Spring­dale a few weeks ago. This place is just cool. Seriously cool. I really had no idea on what to expect (other than what I read on their web­site). We had so much fun!
Here's the scoop:
First, plan ahead. This is a serious workout. Don't bog yourself down with heavy clothes or even jeans for your kids. Put then in summer outdoor play clothes, because I guarantee you they are going to get hot and sweaty! (and hopefully, as an added bonus, tired!)
When you arrive, you need to com­plete a lia­bil­ity waiver form. You then pick how long you'd like to play:
30 min­utes = $8
60 min­utes = $12
90 min­utes = $16
120 min­utes = $20
After you choose this and pay, you then get spe­cial shoes to wear on the tram­po­lines (who knew?). You can't have any­thing in your pock­ets when you jump — this includes cell phones, car keys, money, etc. Based on this, we decided to rent a small locker for $.50. Once you rent this, you do get a small key, which you can keep in your pocket while you jump. This is a one time use locker, so if you think you'll be in and out of it, be sure to bring extra change.
Once you do this, you're all set to go and have fun. All ses­sions begin on the 1/2 hour which is some­thing you may want to con­sider when plan­ning your visit. It will take you 10 min­utes or so to get forms filled out, paid, shoes changed, locker stuffed.…. just think ahead as you don't want to waste any of your avail­able time.
In fact, Sky Zone highly rec­om­mends that you pur­chase your tick­ets before you head out online. They do have a max­i­mum num­ber of peo­ple who can be jump­ing at any given time, so be sure to keep this in mind.
When your time starts, the employ­ees blow a whis­tle to announce the time. You will receive a brief series of instruc­tions on how the tram­po­lines work as well as some basic ground rules. BTW, they do have a video of what not to do. It's hilar­i­ous. Be sure to watch it.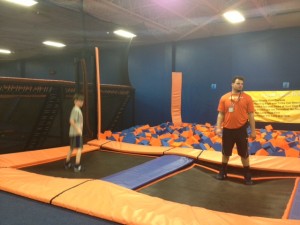 There's five dif­fer­ent sections:
1. The foam pit — hands down my kids most favorite station/section. You jump on a tram­po­line into a huge pit of big foam pieces. Once they got the hang of it, they were doing flips into these.
2. Kids Dodge Ball — there's a kids dodge ball sec­tion, and an;
3. Adult Dodge Ball — both work the same — a "ref­eree" keeps track of every­one, you pick your team and then throw and dodge away.
4. Jump Shots — this part has tram­po­lines and bas­ket­ball hoops. You know the drill.
5. Big Tram­po­line Arena — I'm sure this isn't what this is called, but it works. This is a huge area of inter-connected tram­po­lines. One side is for adults while the other side is for kids. Sky Zone is big on safety. This is a good thing.
If you wear glasses, staff will rec­om­mend that you put on safety gog­gles for some of these areas.
In addi­tion to open jump­ing times, Sky Zone offers some neat extras. Here's a lay­out of the schedule:
Reg­u­lar Jump­ing – Tue-Thurs, 3-8pm / Fri­day 12-9pm / Sat­ur­day 10-10pm / Sun­day 12-8pm
Tod­dler Time – Fri­day 9:30-11am / Sun­day 11-2pm — These ses­sions are for tod­dlers walk­ing to 5 years old. Par­ents are wel­come to join the fun. In fact, par­ents must accom­pany chil­dren. This is $8 per jumper.
Sky­Ma­nia – On select Fri­day nights for kids 11–15 years old. You get 90 min­utes of jump time (from 9–10:30pm); Two slices of pizza and one drink (from 10:30-11pm). Call or check online for when these are going on — the cost is just $15 per person.
Sky­Jam – Every Sat­ur­day night for 16 and older. For just $15, you get 90 min­utes of jump time; Two slices of pizza and one drink.
Sky­Ro­bics – This is a work­out ses­sion that looks super fun! This is avail­able on Tues — 9:30–10:30 am / Wed — 10–11 am; 6–7 pm; 7:15 — 8:15 pm / Thurs 6–7 pm / Fri 9:30–10:30 am / Sat 9 — 10 am / Sun 9 — 10 am. The cost is $8 per class plus tax (includes shoes) — first class is $4; $40 monthly mem­ber­ship; or $65 for a 10 class punch card.
As you can tell, Sky Zone has a lot going on. In addi­tion, they offer birth­day par­ties and spe­cial events.
WIN WIN WIN
One lucky FFC reader will win FIVE passes to Sky Zone Trampoline Indoor Trampoline Park in Springdale!  Entering is easy-just answer the question below by leaving a comment on this post and you are automatically entered to win:
What do you like about jumping on a trampoline?
Want an extra entry or two?  Just do one or all of the following and leave a separate comment fore each in this post stating that you did so:
That's it…that's FIVE ways to enter which means FIVE chances to win! Contest will close Friday, May 17 at 4PM with winner being selected at random and then notified via email (we'll also announce it our our Facebook page). Contest is open to Tri-State residents ages 18 and up. Winners will have 24 hours to respond or another winner will be chosen.  Please leave a separate comment for each entry IN THIS POST to be eligible to win!
Would you like another chance to win? I'm having a giveaway for five passes over on my blog, be sure to enter there as well: http://www.littleworldafterall.com/2013/05/08/win-tickets-to-sky-zone/
Good luck to you!
disclosure: The passes for this giveaway were provided by Sky Zone in Sprindale. I received a complimentary visit for my family, but all opinions expressed are my own. 
When not blogging for Family Friendly Cincinnati, you can find Karen writing at her personal blog, Little World After All.