You've heard of summer brain drain? It's a real phenomenon that occurs when our kids take a three-month break from school and lose their creative and academic mojo.
Sure, kids need summer sunshine, fresh air and all that good stuff. But they also need stimulation to stay active and ready when heading back to school in the fall.
A few key facts, according to the National Summer Learning Association:
Research spanning 100 years shows that students typically score lower on standardized tests at the end of summer vacation than they do on the same tests at the beginning of the summer (White, 1906; Heyns, 1978; Entwisle & Alexander 1992; Cooper, 1996; Downey et al, 2004).
Most students lose about two months of grade level equivalency in mathematical computation skills over the summer months.
Most children—particularly those at high risk of obesity—gain weight more rapidly when they are out of school during summer break (Von Hippel et al, 2007).
Cincinnati parents who want to keep their kids' minds active during the summer months have a huge range of choices. Here are a few suggestions — and I welcome you to share your own in the comments, too.
Read with your children every day.
Greater Cincinnati has a rich selection of bookstores and libraries. Summer's a perfect time to refresh your child's personal library with lots of new books to spark their imagination.
And who says you only can read before bedtime? Keep books handy in the kitchen, the car, the living room, wherever. The more accessible, the more likely you'll read together (or even better, your child will read on her own!)
Participate in your library's summer reading program.
We are so lucky to have the nation's best library right here in Cincinnati. This year's program, "Power Up for Summer Reading," runs from June 1 to July 31. Readers can get prizes and participate in fun programs and activities.
Northern Kentucky readers, don't miss Kenton County Public Library's Summer Reading Club, which kicks off "Jedi style" May 31, June 1 and June 8 at the three branches, respectively.
Southeastern Indiana parents, check out the Lawrenceburg Public Library Summer Reading Club for grades 1 to 6. This year's theme is "Dig into Reading," and the program runs June 3 through July 20.
Don't see your neighborhood library's program listed here? Check with them–just about every library offers summer reading programs for children (and often adults, too).
Explore parks and nature preserves.
Similar to libraries, many public park systems offer plenty of nature programs for children throughout the summer. Visit the following park websites for event information: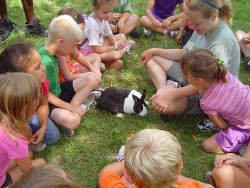 Again, if you don't see your local parks listed, just check with their website or park personnel — you can bet they've got some neat stuff planned. We've also written extensively about specific greater Cincinnati parks FFC contributors love — explore the posts and see what appeals to your family.
Visit museums and cultural centers.
Cincinnati has museums of all stripes–art, history, firefighting, signs, natural history, presidential birthplaces, astronomy, sports, heritage, clocks–for you and your kids to explore this summer.
A few ideas … Giant dinosaurs will be taking over the Cincinnati Museum Center starting June 13. Take a Summer ARTventure Class at the Cincinnati Art Museum, designed for children ages 5-8 or 9-12 and taught by highly skilled educators and museum staff. Or view solar flares, Saturn and the supermoon through the Cincinnati Observatory's telescopes.
Practice math skills.
Did you see that nasty statistic about kids losing two months of math learning each summer? Ouch. Whether you're a math whiz or not, you can help your child preserve his math skills this summer.
Little ways you can incorporate math into summer fun: cooking/baking, science experiments in the kitchen or backyard, amusement parks, car trips (short and long), shopping, games. The possibilities are endless. Check out this PBS Parents article for more summer math activities.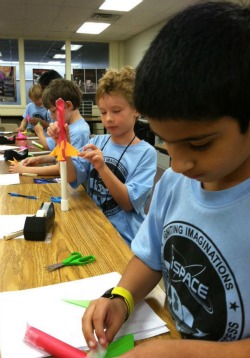 If you want bigger bang for your summer math buck, go for programs like Cincinnati Country Day's summer courses (Engineering with Legos for grades 1-3, Multiplication Mastery for grades 4-6, etc.) Or try a math-oriented camp, such as iSPACE summer camps that explore a variety of STEM topics such as robotics, rocketry, space exploration, engineering and more. NKU offers CINSAM Summer Camps for students in grades 6-12 who are interested in science, technology, engineering, and mathematics.

Don't forget about camps and childcare.
Our own Karen put together this amazing directory of greater Cincinnati summer camps for FFC readers. It's not too late to register your child for one, two or many weeks' worth of camp fun. There are camps for just about every interest and personality: art, science, sports, animals, nature, circus, technology, languages — you name it.
And if your kids spend their summer weekdays in childcare, either at home or somewhere else, you can look for providers that incorporate learning and creativity into their daily routines. Turn to 4C for Children for guidance and resources to find quality childcare in the Cincinnati area.
Need more ideas?
Consult this FFC mega-post, 50 Kid-Friendly Things to Do in Cincinnati, by Shannan. You could do one new thing from the list every day for the whole summer.
When she's not blogging at Family Friendly Cincinnati, you can find Susan writing at her blog Working Moms Against Guilt.