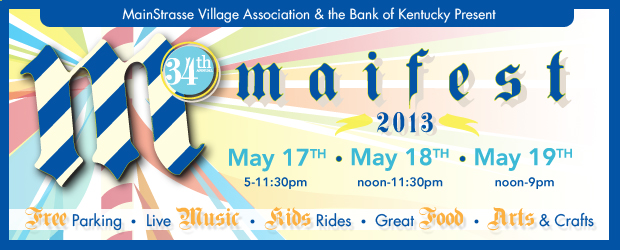 One of our favorite events held each year in Covington is Maifest.  We love taking our kids down to MainStrasse Village to experience all the food, the music, the beautiful chalk art, and of course…. the rides!
Maifest is just around the corner — May 17, 18, 19 — and this year they have an out-of-this-world mobile exhibit that kids are going to love — NASA's Driven to Explore (DTE).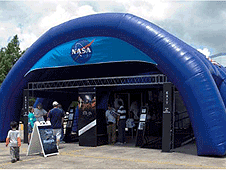 Sponsored by the folks at John R Green (and located in their parking lot), NASA's Driven to Explore  mobile, multi-media exhibit immerses visitors in the story of NASA. Guests will learn why we explore, discover the challenges of human space exploration and how NASA provides critical technological advances to improve life on Earth. The exhibit includes imagery and audio and visual technology to connect visitors with the space program, highlighting advanced human research that will ensure safe and sustainable future missions, and next-generation vehicles and surface systems destined for use exploring beyond low Earth orbit.
As part of this unique exploration experience, visitors have an out-of-this-world opportunity to touch a 3 billion-year-old moon rock brought back aboard Apollo 17, the last manned mission to the moon in 1972. The moon rock is one of only eight lunar samples in the world made available for the public to touch. Additional exhibits accompany the exhibit and are displayed beneath an inflatable tent that is part of the trailer's external structure.
Get a feel for the exhibit in this YouTube video:
There is no admission charge for Driven to Explore is designed for all ages.  Touring the exhibit takes approximately 10 minutes.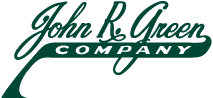 NOTE: In addition to hosting the exhibit during Maifest, John R Green will be inviting schools to come down to check out the NASA DTE exhibit on the Monday after Maifest, May 20th.
PS. John R Green is an awesome place to go not only for school supplies, but for craft supplies, stickers, just about anything you can think of. We even get our computer paper there!