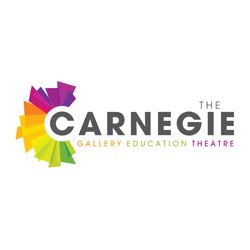 Have you ever experienced a silent film?  Not the few snippets you get when they are placed as comic relief in other movies but the real thing?  In a theater with musical accompaniment?  Oh, then you are really missing out!  I'm all about technology and high def specials effects, don't get me wrong…but there is just something about the simplicity of a great story, with nothing but the actors and their amazing talents to tell you everything, being backed up beautiful music, that makes the experience of watching a movie a true delight.
If you are looking to introduce your kids to the original 'moving picture' then there is no better place than The Carnegie.  I took my kids last year to see Peter Pan and it was wonderful!  I had my doubts going in, don't get me wrong: Would they be entertained?  Would they enjoy the experience?   It turns out the answer is a resounding YES!  They laughed, they giggled, they LOVED every minute of the production.  They were fascinated by the harpist, Leslie McMichael, and loved watching her play.  They had so much fun drawing comparisons between the silent film version of JM Barrie's story and the Disney version we all know and love.  It was educational, it was entertaining…we all had a great time!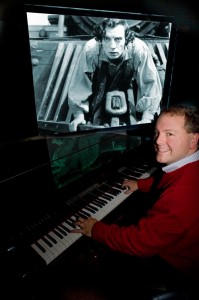 This year The Carnegie is presenting Buster Keaton's 'The General'-A Silent Film With Live Music and you don't want to miss it!  Here's a little about the show from The Carnegie:
One of the Greatest American Movies Of All Time

Directed by, and starring, Buster Keaton, "The General" follows Western & Atlantic train engineer, Johnnie Gray (Buster Keaton) at the start of the Civil War. When plans to hijack his train by Union soldiers are revealed, Keaton embarks on a journey to not only save "The General," but to save and win back his true love, Annabelle Lee. While "The General" was not initially well received by critics when it premiered in 1926, the American Film Institute places "The General" 18th on its list of the 100 greatest movies of all time.
And a little about the score and accompanist Jeff Rapsis:
Accompanist Jeff Rapsis developed a fascination with silent film during his teenage years. But it took until middle age for the New Hampshire newspaper publisher to combine his interest in vintage cinema with a lifelong passion for music and begin accompanying silent films in live performance.


Today, Rapsis accompanies about 70 silent film screenings a year in venues ranging from small theaters in his home base of northern New England to prestigious events such as the Kansas Silent Film Festival, where he contributes live music each year. Rapsis, who often speaks and writes about silent film and accompaniment, maintains a Web site about his work at www.jeffrapsis.com.

In accompanying silent films, Jeff Rapsis' technique is to make use of the full range of film scoring vocabulary to help bring the silent movie to life for contemporary audiences. Rapsis improvises his scores in real time, often drawing from original ideas or material he's created earlier in previewing a film.

"It's kind of a high-wire act, but a score that's at least partly improvised lends a freshness and spontaneity to a screening that's not present when everything's prepared in advance," Rapsis says. "If I'm buried in sheet music, it's hard to respond to the emotional line of a film in real time as it unfolds on the screen. I think it is all part of what makes silent film a unique art unto itself."
This truly is a unique experience and one you don't want to miss.  The Carnegie is such a lovely setting for this event, you can't find a more beautiful theater than the Otto M. Budig Theater and it serves as the perfect backdrop for the film and score.  I highly recommend taking the whole family and treating them to a special night at the movies!
FFC would love to help you bring this special experience to your own family so we are giving away a pair of tickets to see The General at The Carnegie on May 2!
WIN WIN WIN
One lucky FFC reader will win a pair of tickets to see Buster Keaton's 'The General' at The Carnegie!  Entering is easy-just answer the question below by leaving a comment on this post and you are automatically entered to win:
If you were a Silent Film character would you be a hero or villain?

Myself, definite damsel in distress!  Yes, please, tie me to the train tracks…I know the hero will rescue me!  What about you?  Just leave a comment telling us what type of character you would be and you are entered to win!
Want an extra entry or two?  Just do one or all of the following and leave a separate comment in this post stating that you did so:
That's it…that's FIVE ways to enter which means FIVE chances to win! Contest will close Friday, April 26 at 5 PM with winner being selected at random and then notified via email (we'll also announce it our our Facebook page). Contest is open to Tri-State residents ages 18 and up. Winners will have 24 hours to respond or another winner will be chosen.  Please leave a separate comment for each entry IN THIS POST to be eligible to win!
Don't want to miss out on getting tickets for the show?  Tickets for Buster Keaton's "The General" – A Silent Film with Live Music are $19; $16 for Carnegie Members, WVXU Perks and Enjoy the Arts Members and students. Tickets can be purchased through The Carnegie Box Office, open Tuesday through Friday noon – 5pm, in person or by phone at (859) 957-1940. Tickets are also available online at www.thecarnegie.com.

See you there!
When not blogging for Family Friendly Cincinnati you can find Amy writing at her personal blog In A Galaxy.