Has your child sat in his or her math class and asked the question, "When am I ever going to use this stuff?" Fidelity Investments and partners are working to help address that very question.  This year,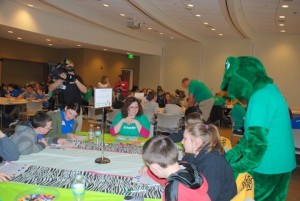 their employees implemented the program, "Investing in Students, Make Math Count".  This program, which has a strong emphasis on implementing the Kentucky mathematics Common Core Standards, involved nearly 1,300 students from Kenton County and Covington Independent Schools in the 2012-2013 school year.
The program kicked off in the fall with Fidelity Investments employee volunteers going to the classrooms to teach various activities designed to enhance the students' mathematics and financial education skills.   In January, students began participating in an exciting online math and investment simulation game, The Investment Education Challenge, which simulates forty years of investing.  The students with the highest portfolio values participated in an NCAA-style tournament today and we stopped in to check it out.
This past Friday, we had the chance to see 64 teams, comprised of 128 seventh grade students from Woodland, Summit View, Twenhofel, Turkey Foot and Holmes Middle Schools compete in an investment tournament held at the Fidelity Investments campus in Covington.
Great job to all the teams that participated and special kuddos to Fidelity Investments for their work with the students.