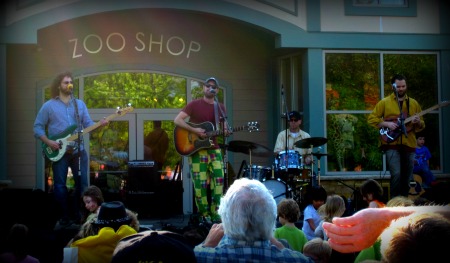 I don't know if it's quite safe to say this, given how unpredictable our weather has been around here lately, but I think that Spring is finally upon us! Spring is my favorite season, and I like to spend as much time outside as I can.   One of my family's favorite things to do in April is to go to the Cincinnati Zoo for Tunes & Blooms. Every Thursday night in April the Zoo presents a FREE concert in their gorgeous gardens filled with tulips as far as the eye can see and other beautiful blooms. The bands that play at Tunes and Blooms are all local favorites, so come out and sing a long and cut a rug. It's a perfect chance to pack a picnic dinner and take the family to the zoo for some great tunes and beautiful blooms! Hope to see you there!
The Musical Lineup:
April 4th :: Comet Bluegrass All-Stars & Magnolia Mountain
April 11th :: Jake Speed and the Freddies & the Turkeys
April 18th :: Shiny and the Spoon & Shiny Old Soul
April 25th :: The Ark Band & The Cliftones
Park admission is FREE after 5pm, parking is $8. Food, soft drinks, and beer are sold at this event. Tunes & Blooms is sponsored by 89.7 WNKU.