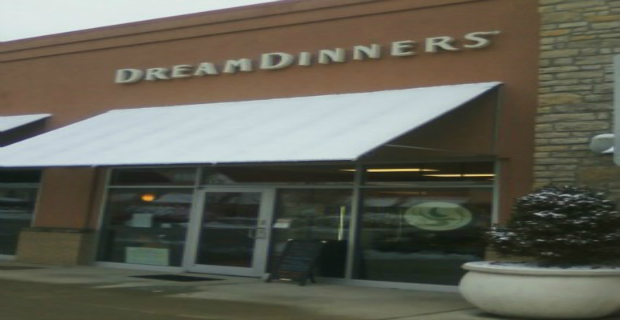 Every week I plan our menu and make a grocery list.   I pull recipes from old cookbooks, blogs of friends, Pinterest and various other places.  Sometimes I'm excited because there are new recipes to try.  Some sound super tastey, while some are so easy and kid friendly that I'm sure everyone will love them!  Menu planning is not always exciting because it gets hard to come up with a week long menu to please everyone, especially if you are pressed for time and want something easy.  And, you can most definitely get into a rut with meal planning.  Wouldn't it be nice to have a freezer full of exciting and delicious meals that just require thawing and cooking?  How does Pesto Cheese Ravioli with Chicken and Walnuts or Meatball Marinara Stuffed French Bread sound?
Enter Dream Dinners!
Dream Dinners is a dinner time solution that helps you serve a great meal to your family, easily and with little to no thought.  It answers that nagging question…"What's for dinner tonight?"

The ingredients are pre-assembled, but not cooked, we leave that part to you!  You will feel like a hero serving this homemade and thought free meal to your family!
I had the chance to visit the Anderson Dream Dinners on Beechwood Avenue in Cincinnati.  It was a fantastic experience.  First I chose my meal by viewing their on-line menu and registering.  I decided on the Pub Style Chicken and Mashed Potatoes.   When I talked to my contact, she informed me that this was one of the most popular menu items.
I arrived at Dream Dinners, put my purse in a cool cabinet and hung up my coat.  I was first asked what my dinner needs were.  Did I want something with little clean up?  Am I looking for healthy fare?  Was the meal for kids or adults only?  Next, I put on my apron, washed my hands and got 'cooking'.
Each menu item has it's own station with ingredients, and an ingredients list with measurements and supplies.  The beauty of Dream Dinners is that you don't have to be a 'cook' or a chef to make a delicious dinner.  You don't even have to know how to use a measuring cup.  All of the ingredients are measured with color coded scoops so you can easily prepare your dish.  I measured my ingredients and placed them in the provided baggies in about 10 minutes.
Then I placed the baggies in my specially marked space in the freezer and perused the side items that are already prepared.  Some of the dinners are already made by the Dream Dinners staff and frozen so you can just grab and go.  You can even select dinners to make that are 'heart healthy', a grill item or take 30 minutes or less to cook at home.
Other services supported by Dream Dinners in Anderson is Comfort Food.  Comfort Food helps provide meals for families fighting critical illnesses.  Wouldn't this be a great service project?  Dream Dinners also offers private parties.  What a great girls night!
We tried our Pub Style Chicken and Mashed Potatoes that evening and everyone gave it two thumbs up.  There were no leftovers.  The chicken was tender and the sauce was rich.  And, the clean up was a breeze.
Does this sound wonderful to you?  A gourmet-style dinner that's already made and has minimal clean up.  But, you are still cooking it, so you can soak up all the kudos!
Please note the giveaway is closed. Congrats to FFC reader, Alisa M.
When not blogging for Family Friendly Cincinnati, you can find Michelle writing at her personal blog, I'm Living the Good Life.
Disclaimer:  Dream Dinners was nice enough to give my family a dinner in exchange for writing this giveaway.  They also provided the giveaway prize. All opinions in this post are my own.